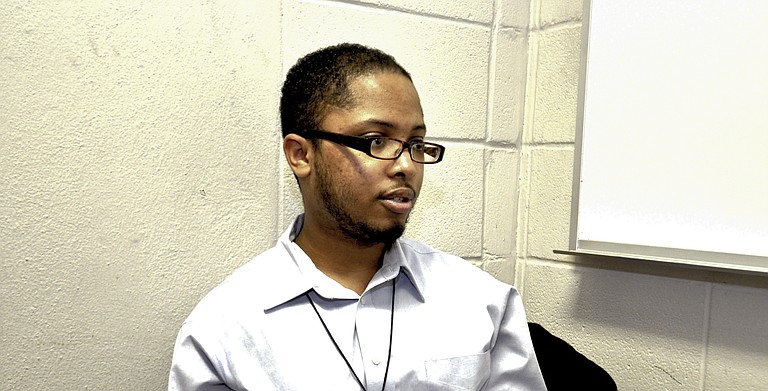 Wednesday, February 20, 2013
Corinthian Sanders
Age: 20
Born: Jackson
Running for: Ward 5 City Council
Occupation: Student at Jackson State University
Education: Callaway High School 2011
Political experience: six-time class or student-body president
It didn't take long for Corinthian Sanders, 20, to face adversity in his bid for Jackson's Ward 5 City Council seat.
The Jackson State University student was a few minutes into his official candidacy announcement in front of Ayer Hall on the JSU campus, when three JSU police officers stopped him. The officers, including Patrolman Troy Nix, held up Sanders' speech for several minutes, while Sanders got a school administrator to come out and tell the police that he had permission to make the announcement.
Sanders remained calm, though, and said the officers were just doing their job.
The city's youngest registered candidate says he a devoutly religious young man and a "big family person." He calls himself a "Chrislam": He believes Christ provides salvation, and he also believes in the teachings and rituals of Islam. He told the Jackson Free Press that he speaks English, Spanish, Samaritan Hebrew and a dialect of Arabic spoken in Baghdad, Iraq.
His religion isn't the only mixture that might confuse some. Sanders, a Democrat, said he voted for President Barack Obama and for Republican Gov. Phil Bryant. Both men were the best candidates for their respective jobs, he said.
Sanders is not new to leadership roles. He helps lead prayer groups and outreach ministries for Universal Life Church, and assists the Williams Care Outreach Mission with community associations to address the growing problem of dilapidated houses in the city.
The JFP sat down with Sanders and his campaign manager, and great aunt, Earnestine Moore on campus at JSU Feb. 13 to find out just what leads a college student to run for city office.
Why is someone your age running for city council?
My age, it really doesn't matter. Open-minded people don't look at age. Age is just a number to me.
It took 20 years for me to decide it's time. It's enough for us to be dissatisfied with the situation Jackson is going through. I'm tired of declining jobs. I'm tired of businesses leaving Jackson. I am tired of our streets tearing up, corroding and going in the ground.
It takes a 20-year-old to realize that change, realize that hope for our tomorrow. We are the generation that needs to be ruling now. We need to be a part of our generation. We don't need someone else's generation to still govern when it's our time to start leading.
For a 20-year-old like me to do something like that, it just tells you that leaders come in all shapes, sizes and ages. I try to stay away from biblical things, because a lot of people call it controversial when you do it with politics. But what do you think about Joseph? Joseph was a young boy when he became a leader. King David--what do you think about those people? Those people were great leaders.
It doesn't matter what age, if they have experience (or) have leadership skills. Moses (had) no experience (and) no leadership skills. Do they have the will to do something different for their people? That's what creates a leader.
That's what a 20-year-old like me is doing: going to school and trying to improve this community, this city.
If you are elected, what is your number one priority on day one?
Day one, I'm going to start on official business, as in going around my ward doing a tour, which I'm doing now. It's not going to be any different from the campaign. (I'll be) going door to door, neighborhood to neighborhood, projects to projects to speak with the citizens, business owners-- black, white, Asian, whatever--(and) churches, and (asking) what do they want from me. What do they want from the city itself? What do they want me to do? What is most important? What can we all agree on? What do you expect from me for four years in this first term.
That's basically what I'm going to do is listen, a tour of listening.
What does the city need to do to get people in the abandoned houses or do something with the abandoned lots?
We have a lot of senior citizens, people on retirement pensions (and) things like that. A lot of retired people are coming back to the city. They are living in a home. They have money to invest in (and) don't know where to put it. A lot of people are skeptical about putting it in Wall Street investment companies and things like that.
You have a lot of veterans. They get pensions as well. They want to spend their money on something they can invest in, where they can have something for tomorrow or the future for their children (and) grandchildren.
I think of all of the dilapidated homes, especially in Ward 5--I have six pages of foreclosures and abandoned lots that range from very low prices to reasonable prices. The city can make an initiative where residents, senior citizens, veterans and others alike who have the money to invest--we need to create some incentive to give them a way of getting those properties. We need to create some kind of housing policy for those particular people.
Why?
We know that this can be influential as potential revenue for the city. If the city can give the lots and abandoned homes to people who can't afford them, like senior citizens and veterans, those (people) can go spend their money and flip the homes.
We can (reduce) those (home) values. We can talk to the banks that own those homes here. We can talk to them about creating a low interest rate, or get (people) on a program where they can buy so much property, and the bank will give them a leeway on more resources to improve their property.
Or (we can) create a business program, where we help the senior citizens with a 
business plan. If they have a business plan themselves, we have to improve that....
This whole area around (JSU) is empty, almost. The school is looking for more area. It's hard for them to get it, because the city is making it hard for them to get those (pieces of property). A lot of these lots are owned by the city. We can work more with people who have resources and let them get these lots, instead of (owners) being greedy. We want to collect taxes, and we want to do this, and we want to do that. It's not working because these lots are overgrown. We have broken windows. We need to pass a policy for broken windows like Madison has.*
We need to have some kind of initiative in place where we can beautify not just Ward 5, but the whole city, because all of it, every ward, looks the same if you ask me, as far as the appearance and housing. A lot of it is dilapidated. As you know, a lot of housing is collapsing because a lot of people can't afford to improve their homes. The city has resources. They really do. They have resources to give some of these people grants, not just loans. Let's stop talking about loans and higher taxes. Let's talk about grants, initiatives and community service. Let's talk about getting our lawbreakers, criminals—I call them terrorists....(If) you can't go anywhere without killing someone or robbing someone or terrorizing someone, that's terror, (and) you're a terrorist; you're a domestic terrorist.
If we can get them out there on the streets and get them to do (the work)--we're paying thousands and thousands of dollars each year, for them to stay in this jail cell that is corroded itself. They're having problems with the jail system now. (The city) can't figure out what to do. They didn't know what was going on.
You are the government: Why didn't you know this? You didn't know this because you didn't want to know this. Now you know this because the media is putting it out there saying, "Hey, look at this. Look at this."
So what are your thoughts on the city building its own jail?
I don't have a stand on that right now. I'm not supporting the city having a jail. If we keep it with the Hinds County sheriff, we can help Tyrone Lewis and his administration develop a better prison system. I don't think Jackson needs to be a place where we imprison lawbreakers in the city limits. We want to be a city known as a destination, a place where people want to come, not to be afraid to come.
You said Jackson should be a destination. There are a lot of groups with a lot of plans to make that happen, from Farish Street to Old Capitol Green, to One Lake. What plans have you heard of that you would support, and what do you think the city's role should be to make them happen?
To be blunt, none of them. I'm tired of supporting them. We've been hearing about this all my life. A lot of people who have more life experience have been hearing about this since way before I was born.
For 20 years, I've been hearing about Jackson this or Jackson that. It doesn't faze me, because they're always saying it. (Mayor Harvey Johnson Jr.) is always saying that Farish Street is going to do this, it's going to do this. How many times (has Johnson) said that? Ten years before, (he) said the same thing when (he was) in office (before). Somehow (Johnson) got back in office--I don't know how, but (he) got back in and said the exact same thing (he) said before (he) lost in 2005.
I just don't see any plans coming from this administration that are any good for the city. I don't. If you ask me, (the) King Edward (Hotel), not to be biased, was a waste. I didn't see any point for it.
If we had a better downtown district; if we had parking lots and other things; if we were a downtown area that had tourism like New Orleans, then King Edward would have been needed. That was something we didn't need.
Without building things like the King Edward or Farish Street, how do you become a destination like New Orleans?
You become one when you get everything organized. You don't build on mess. You don't bring furniture in a house when it's messy. First you clean up your house, then you bring in your furniture. You have room where to put your things.
When you have guests over, you don't bring them to a messy house, not when it's a socialite thing. Entertainment is the same way. You want to bring guests. You don't bring them to a messy area. You want to keep them coming year after year, or even living here.
The South is a region where a lot of retirees reside. I think Jackson could be that destination city. New Orleans get struck by hurricanes and everything else. They make billions off of Mardi Gras. Wow. That's once a year.
What tourism do we make. Maybe our biggest tourism might be the Dixie (National) Rodeo, or the St. Paddy's Parade, which doesn't make any kind of money for the city like New Orleans does with Mardi Gras.*
Our city is not up to par where we can invite people to come. We don't have order in our city. We don't have fortified government. City council can't get along. The current administration is unprofessional. The mayor is unprofessional. (He) can't relate with the city council. City council can't relate to the mayor, so things are always: "We don't know what's going on."
We don't have a relationship with developers. Like Farish Street: They've been working for that one for a long time. The reason for that is developers can't do what they need to do--or they don't want to do this, and the city will want them to do that, instead of just being a strong mayor and city council and letting them know: either you want to do this or not do this. Make an incentive to bring business into our city or get out of our city. We can get someone else.
We don't have that kind of system right now. We don't have that kind of administration. We have people who like to be pushed around in office. They, like, play around and keep things ongoing and ongoing.
We have to wait as citizens. We're the ones that are affected, because we live here. We don't want to go spend our money in Madison or Ridgeland, but we have to because Jackson's a mess.
Comment at www.jfp.ms. Email Jacob D. Fuller at [email protected]
*Both Jackson and Madison operate under the 2006 International Property Maintenance Code, which requires home owners to repair broken windows in order to receive rental licenses.
A 2011 study performed by the Department of Economics at Tulane University in New Orleans showed that Mardi Gras a total direct and indirect economic impact of $300,656,546 on New Orleans. The City of New Orleans accrued a net fiscal benefit of $13.1 million from Mardi Gras.
* The Jackson Convention and Visitors Bureau estimated the 2010 St. Paddy's Parade generated about $6.5 million in economic impact for the capital city. The state Department of Agriculture and Commerce estimates the Dixie National Rodeo's economic impact to be more than $20 million.