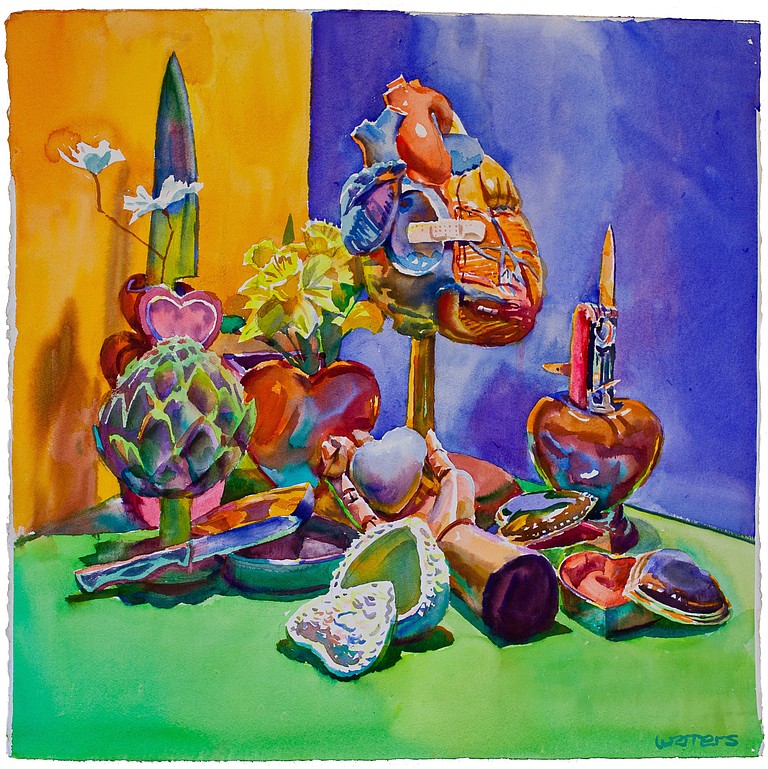 Wednesday, February 6, 2013
The creative spirit is a strong one; it comes from deep within. That's why so often art creates in the viewer an emotional reaction or impact. So it's no wonder that in addition to having a desire to create, artists also often have a desire to give of themselves--after all, each time they create a work, they put a little bit of themselves to the canvas (or other medium), giving of and exposing themselves.
Now in its 21st year, the annual HeARTS Against AIDS art auction gives artists an opportunity to give of themselves. Through its efforts, and with generous donations by Mississippi artists of their work, HeARTS has raised nearly $1 million with its annual fundraiser over the years to grant out to Mississippi organizations fighting HIV/AIDS.
This year's fundraiser is Saturday, Feb. 9, and once again invites attendees to open their hearts--and their wallets--to purchase work by some of the state's most well-known and talented artists. A silent auction runs from 6 p.m. until 8:45 p.m., and a live auction featuring 20 pieces by artists including Susan Cox Davis, Tony Davenport, Anthony DiFatta, H.C. Porter and Marshall Ramsey begins at 9:00 p.m.
Some artists, such as Dr. John Gibson and Tammy Oliver Cook, are longtime supporters.
Gibson, the first chairman of the Episcopal AIDS Commission before HeARTS formed as an organization, has contributed pieces to the auction for 20 years. Cook, a longtime volunteer for HeARTS as well as a contributing artist, assumes the vice-presidency of the HeARTS board of directors this summer.
Other artists are more recently involved. Joe Williams, the art acquisition chairman of this year's HeARTS live auction, is particularly excited about two new additions. A William Dunlap painting set to be auctioned off is sure to be a show-stopper, and this year's featured artist is none other than Mississippi favorite Wyatt Waters. Williams explains that in addition to being auctioned off, Waters' piece is featured on the event's T-shirt design, and prints of the work will be available for purchase.
"We're very proud to have Wyatt Waters create a special painting just for HeARTS," Williams says. "He was inspired by the organization and the event theme, and upon close inspection, viewers will see that each element of the painting represents a heart of some sort."
Williams is confident that this year's event, which he hopes will raise more than $30,000, will help HeARTS surpass the $1 million fundraising mark. Williams first got involved in the cause by helping out at Grace House, which introduced him to HeARTS. He has now been involved with the organization for six years and, as a former HeARTS grant recipient, he knows both the impact of the money raised and the importance of raising funds and awareness--several of his friends and family have been affected by HIV/AIDS.
Mississippi Department of Health statistics show that in 2011, Mississippi ranked seventh in the United States in HIV case rates (19.1 per 100,000 people), with 573 newly reported HIV infections that year. With the efforts of the organizations HeARTS and its artists supports, that's a statistic we can work to change ... if we have the heart.
HeARTS Against AIDS is Feb. 9 at Hal & Mal's (200 S. Commerce St., 601-948-0888) starting at 6 p.m. For more information, visit mississippihearts.org or call 601-259-0092.
More like this story