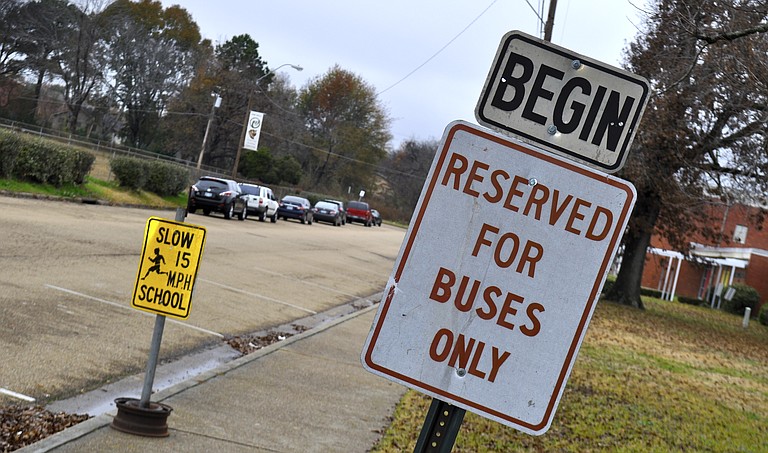 This morning, Ward 6 Councilman Tony Yarber had to make a quick stop before attending a meeting of striking Jackson Public School bus drivers: He had to drop his kids off at school.
"It's already affecting everything," Yarber told the Jackson Free Press today. "I am supposed to go out of town tomorrow for work, and my wife is already out of town. I might have to rethink going out of town because I want to make sure my kids get to school."
Yarber, along with activist James Meredith, met with drivers at New Canney Creek Missionary Baptist Church in Jackson this morning to talk solutions, which may involve enlisting the help of a labor union.
On Dec. 4, somewhere between 100 and 180 drivers walked off the job to demand higher pay and a more secure work environment. The district employs 263 bus drivers to serve approximately 22,000 students who ride the buses.
The average pay for a part-time JPS bus driver is $10.79 per hour for a five-hour shift. Pay comes with health insurance, paid holidays and retirement, the Associated Press reported. The drivers, who are paid monthly, say they want to be paid more and more than once a month. Discipline issues on some routes have sparked concerns.
Yarber said city officials can do little but be an intermediary between the sides.
"I don't think that the city actually has any direct statutory authority over this. That's for the school board. But the city can play a role in helping to facilitate these talks between the district and these drivers," Yarber said.
It's unclear how those talks are progressing. JPS Superintendent Cedrick Gray told local news outlets that the district is working toward a resolution and that students who are tardy because of bus delays will be excused. Meanwhile, JPS is also engaging in a public-information campaign on its website.
The fact sheet indicates that only the state, and not JPS, has the statutory authority to move to a bi-weekly pay cycle from the current monthly schedule. Even though JPS drivers are part-time, they average a 5-hour workday but receive full-time benefits, which equals an additional $4,000 to $5,000 in pay a year, JPS said.
The district acknowledges that the drivers have not gotten a raise since 2010, but said that an equity study Gray commissioned "will result in a positive adjustment" to drivers' salaries, depending on their experience and years of service, starting in July 2014.
"We acknowledge that student discipline on some buses, and some routes, require additional attention and has caused some concern for the safety of all who ride the buses. JPS administrators and principals are committed to working to support the drivers and providing rigorous enforcement of the discipline policies," JPS added.
Drivers want more consistency to their work schedules, which he described as being at the district's beck and call, and clearer lines of communication with district officials, Yarber added.
"City leadership, we've got to be a listening ear. I think we can bring folks together and give them an opportunity to clearly communicate what they are about so we can move towards a solution, and fast," Yarber said.