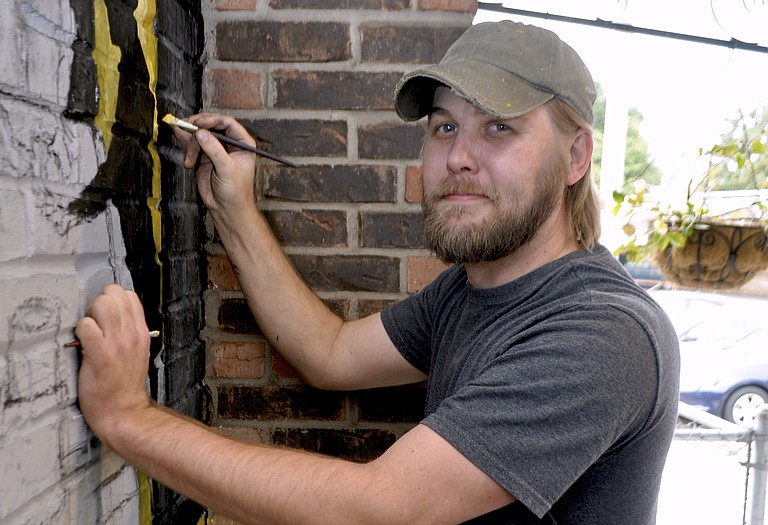 Wednesday, December 4, 2013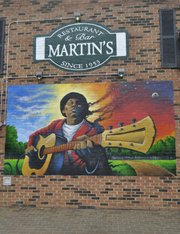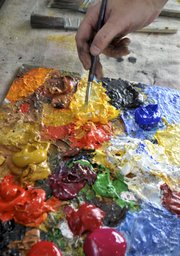 Jason Jenkins moved back to Jackson during the summer of 2012—just in time to participate in the painting of area traffic boxes as part of the Public Art Initiative that former Jackson Mayor Harvey Johnson Jr. created in conjunction with the Greater Jackson Arts Council. The traffic box that Jenkins painted, located at the corner of Gallatin Street and Highway 80, depicts a sunny landscape scene.
"It's just not enough to make a statement about our artistic community," Jenkins, a Jackson native, says about the painted telephone boxes. "They're just like little pinpricks of light here and there, and we need a whole ray of it."
This past September, Jenkins happened upon another chance to create some public art, this time on the 143-foot-long, 12.5-foot-tall, north-facing wall of Martin's Restaurant & Bar downtown.
Joseph Stodghill, who has owned Martin's Lounge since the passing of his father, Calvin, a little over year ago, decided that the wall needed some life. In August he spoke with Tammy Golden of the Greater Jackson Arts Council about commissioning an artist to paint it.
"Brick is good for holding up buildings, but after a while, it gets kind of dull," Stodghill says. "That's one of the reasons we're doing the mural." He also thought the mural would add a much-needed touch of art to the city.
"Anybody coming into downtown Jackson would have seen this mural," he says. "It would have been a conversation piece, and I thought it would be great for downtown Jackson."
During September, artists were able to submit design ideas for the mural. Out of about 18 submissions, 34-year-old Jenkins' stood out to Stodghill and his panel of judges. While several submissions came from other states, Stodghill was adamant that the chosen artist should be a local in order to truly depict the city. He also wanted music to be the focus of the mural because it's such an important part of the mission and history of Martin's Restaurant & Bar.
Incorporating Mississippi's local music scene was no problem for Jenkins. "I used to paint live behind most of the local bands around here (from) Furrows to the Bailey Brothers," Jenkins says. He has painted during concerts at venues including Martin's Restaurant & Bar, Fenian's Pub and Ole Tavern on George Street. "Being around local music for a really long time kind of gave me an insight to how it worked and how colorful and vibrant it is, and how much attention is not paid to our local culture."
Can't Stop Them
After seeing an article about Jenkins' taking on the large mural, the owner of the empty lot next to Martin's was discontented. He called Stodghill and demanded a halt to the artwork's production. He said he was looking to sell the lot and that the mural would lessen the property's worth. Stodghill obliged because, coincidentally, the fellow owns a small portion of the wall, which was previously in a state of utter disrepair.
Martin's Restaurant & Bar and the previously adjacent building were built in such a way that they supported each other. The contractor who tore down the other building felt that the wall needed to stay as is so that Martin's would not collapse as well. This year, in addition to renovating the inside of Martin's, Stodghill also repaired the wall and got the lot cleaned up the best he could.
"(The wall) was literally starting to peel off whole bricks at a time, so I knew I had to fix it," he says. The wall was damaged from more than half a century of weathering.
He didn't get, nor did he expect, any sort of compensation from the lot's owner. The owner also didn't complain about it, at least until the mural plans got underway.
But Jenkins and Stodghill would not be deterred, turning to an alternate plan. "It was just dumb luck that we had that backup," Jenkins says. He and Stodghill had already talked about creating some smaller murals around the bar. Within a couple days of getting the disheartening phone call, the two men met and reconstructed their idea. "We're bound and determined," Stodghill says.
Still, Stodghill is disappointed the original mural won't happen. His hopes for it were greater than just enhancing his bar.
"It's really unfortunate, because I thought it would be something that could liven up downtown," he says. "It would have been there for years for everybody to look at. I think that's more of what Jackson needs."
The New Plan
Stodghill and Jenkins decided to create four smaller wall paintings outside the entrance of Martin's. Instead of a scene representing Mississippi's musical heritage, as the large mural would have done, these paintings embody more of the bar's general essence.
"Not only do people get to see, in my opinion, something really cool, but nothing really moves people like art and music," Stodghill says. "When you combine those two, people really feel something. It really moves them."
The first one Jenkins finished—on the outermost wall nearest the parking lot—depicts Robert Johnson at the crossroads.
Johnson is a forerunner in the state's music history, especially the blues.
"The folklore behind that guy is just so immense and so great," Jenkins says.
"I know there were guys who came before him, but when it comes to setting the tone of blues, he did it."
In the painting, Jenkins uses color and abstraction to dually depict Johnson's story. Facing the painting, Johnson's left side is well lit, and the sky is a clear light blue. His other side, however, is surrounded by a burning red darkness of which Johnson seems to be becoming a part. His body is emitting smoke as he plays the guitar with a look of concentration and contentment on his face.
"It kind of tells a story, and it doesn't have to show you the meeting of the devil at the crossroads, shaking hands," Jenkins says. "Apparently, he's already met the devil."
The mural on the inset of the wall, just around a corner from the painting of Robert Johnson, is of the Martin's Restaurant & Lounge sign that faces State Street with the green awning overhead. Jenkins decided to use this sign as the focal point of the painting because, for him and many others in the city, it is emblematic and somewhat of a downtown landmark. He remembers many nights standing outside this State Street entrance to the bar while hanging out with musicians after shows.
"We're constantly working to try to keep being what we've been with a twist," Stodghill says. "(We want to) keep adding different things and keep it original."
In line with that philosophy, the third completed painting is meant to represent the drinking aspect of Martin's. Designed like an advertisement, the painting shows several cups of beer. With a banner at the bottom reading, "Drink 'em local... Drink 'em often," the painting supports local breweries and distilleries.
Next to it is a scene intended to look like a window into the bar on an active night.
"I think I've been here long enough to capture the spirit of this place. This is like pretty much my second home," Jenkins says. "The window scene basically represents the spirit of Martin's. This place on busy nights is a raucous time that you don't want to miss."
A Muralist Is Born
Jenkins was born in Jackson and moved to Tupelo at age 9. After graduating from high school there, he moved back to Jackson to attend Hinds Community College before transferring to Mississippi State University. At MSU, Jenkins studied drawing and painting, but he took a break from school to deal with family situations. He ended up graduating from the University of Southern Mississippi with a graphic-design degree 
in 2003.
"Of course, I never used my graphic-design degree once I got out (of college)," he says. The closest he has come to making use of the degree is doing independent logo work for people. "I actually took more fine-art classes during my graphic design years, which made me take longer to get out of school. Everybody else was doing more computer stuff; I was doing more handmade stuff and scanning it into the computer."
One of Jenkins' main endeavors is painting during concerts. When a blues-musician friend asked him to bring a canvas on stage one night, Jenkins was afraid to do it, but he was even more afraid to say no. That night, he nervously set up his canvas and paint and started creating. He quickly realized something about live painting.
"I was done with the painting before the end of their first set," Jenkins says.
He learned that he was a fast painter, and from then he has trained himself to pace the progress of creating the work live. At the same time, though, he had to make sure that he could actually finish the work during the concert.
Jenkins uses live paintings as somewhat of an exercise such as gesture drawing. It gives him an opportunity to pay less attention to details. "It keeps me loose," he says. Jenkins also uses the live paintings to get ideas for more structured work.
At the end of 2009, Jenkins moved to St. Petersburg, Fla., for a change of scenery. He stayed until 2012 when his father passed away. While in Florida, still doing live paintings during concerts, a restaurant owner approached him and asked if he would paint the back wall. His first murals were the restroom walls at Cafe Alma in St. Petersburg in 2010.
While Jenkins has only completed about five murals in Florida plus the traffic box in Jackson, he says he has done hundreds of live paintings with musicians over the past few years. "I have an entire storage unit filled with 3-by-4-foot canvases that I've done," he says. He hopes to get a website up at some point on which he could sell them.
Jenkins also makes what he calls private work at his home studio in his free time. "I call them private because no gallery around here wants to show them, so they just stay in the house," he says. 
 One of these works, which are often paintings about social dilemmas, depicts a man with about half a dozen arms, each holding some sort of material item such as a cell phone or Starbucks coffee cup.
He was initially attracted to public art, however, because anyone can enjoy it.
"It brightens up your community and brings back community pride," Jenkins says. "Also, it brings back attention to otherwise overlooked areas. ... I think that Jackson needs that. It also needs more people like Joseph who are open to art and open to murals on their wall and open to having more culture in our community."
For Jenkins, there is no reason why Jackson should not be a cultural hub, especially because major highways and interstates run through it and it is the capital city. He wants to promote growth here through art.
Jenkins advocates the Greater Jackson Arts Council for artists to get started. "There's always something going on artistically that you can be involved with. Whether it's art contests or donating artwork to a cause, there's always something you can do," Jenkins says.
"You just have to be out there and contact people. ... It pays off in the end."
More like this story