Originally published August 16, 2013 at 11:11 a.m., updated August 16, 2013 at 1:26 p.m.
In December 2012, the Mississippi Department of Archives and History hired Jackson resident Jacqueline Dace as the project manager of the Mississippi Civil Rights Museum, set to open in 2017.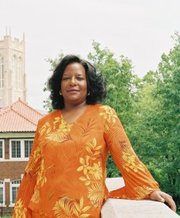 "I applied for the position at the Civil Rights museum because it fit my work history and my goal for the next progressive step in my career," Dace said. "It's been exciting. I feel like I've gotten a PhD in Mississippi civil-rights history in the past eight months because I've been so engrossed in it. The stories you hear in Mississippi are so different from what I heard in Missouri. I've been so fascinated by all the people I've met, the stories I've heard and all the progression we're going through for the museum."
Dace is in charge of working with scholars and the museum's designers to develop exhibitions, working on the design of the interior and making sure everything stays on schedule. She also goes out to find artifacts and documents to put on display in the museum as part of its collection initiative.
"A few months ago, we purchased three quilts from Gwendolyn A. Magee," Dace said. "She was a local Mississippi artist who entered the field later in life. She depicts scenes of African American life throughout the civil rights struggle. One is of a scene of a man pointing his rifle out a window as someone is burning his yard, and he is fighting back. The title is 'Not Tonight.' Another depicts an image of the globe with people of different colors singing at the base of the quilt; it's titled 'Lift Every Voice and Sing.' The last is of a man in chains who has been lashed, with a salt bar on the ground next to him."
The museum also has truck parts that belonged to Vernon Dahmer's family. Dahmer was a civil rights activist who was instrumental in helping individuals vote. He provided money for paying poll taxes and took people to register to vote.
"(Dahmer) made enough enemies that he and his wife had to start staying up in shifts at night to keep watch outside," Dace said. "Their house was still firebombed in 1966, and Dahmer was killed when he got caught in the fire trying to fight back against the attackers and get his family out. His wife, Ellie Dahmer, is still alive. She donated the parts from his car, which was also firebombed that night."
Dace, 50, attended Cahokia High School in Cahokia, Ill. and went on to Southern Illinois University at Edwardsville, Ill. and Webster University in Webster, Mo. She majored in social sciences, anthropology, psychology and sociology. Dace graduated from Webster in 2004.
Prior to moving to Jackson in December 2012, Dace worked for 16 years at the Missouri History Museum as curator of African American history. She later worked for two years as the collections manager at the DuSable African American History Museum in Chicago. Dace taught African American history at Washington University in St. Louis, Mo., from 2005 to 2010.
The Civil Rights Museum is looking for great stories and artifacts all the time. The staff is covering the period between 1945 and 1974, and is seeking objects representing that time. For information or to find out how to donate to the museum, contact Dace at 601-576-6852, or email her at [email protected]