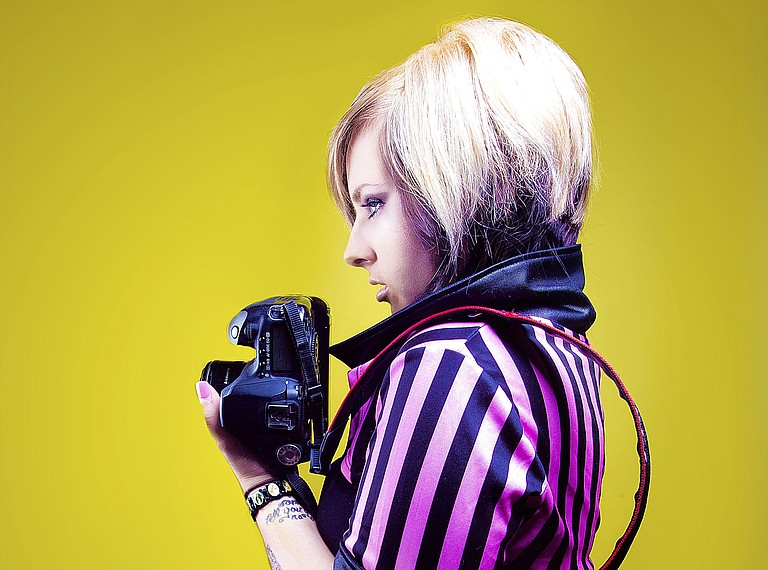 Wednesday, August 7, 2013
Tristan Duplichain is growing her business, one photo at a time. The 20-year-old discovered her passion for photography at 14 and began her own business three years later.
Despite her age, Duplichain's work can be found in a variety of places, from Vogue Italia's website to more local organizations, such as Bops Frozen Custard locations, statewide magazines and local clothing stores. She says she likes to venture out and try many things. "I do a lot of graphic design," she says. "I photograph everything you could imagine—fashion, musicians, local artists, editorials, weddings, boudoir, events, children, maternity, babies, pets, glam, holidays and senior portraits."
Although she isn't exclusive in subject matter, Duplichain hopes to move into the fashion world. "Fashion photography is what inspires me," Duplichain says. "My favorite photographer is Lara Jade. Her work is amazing. I hope to meet and or shoot with her someday." Locally, Duplichain is finding opportunities to practice fashion photography. She recently had a photo shoot with Mississippi Magazine for the local high-end consignment shop, Fondren Muse.
Besides fashion, Duplichain's other favorite subjects to shoot are musicians and proposals. She enjoys the surprise and suspense.
Duplichain's mother homeschooled her as a child. She says her mother and her father have supported her every step of the way. After she finished home school, she attended Antonelli College where she received her associate's degree in digital photography with an emphasis in graphic design.
Although she loves what she does, she admits that the business can be tough. Finding models, fashion designers, hair and makeup artists, and locations to shoot, as well as places and publications to display her work, can be a challenge. She spends a lot of time advertising and marketing her business across the community.
She advises photographers starting out to purchase business cards and to photograph friends and family to build a portfolio and gain experience. "Always charge for the amount of work you put in, such as time, equipment and makeup artists, but be fair. Don't overcharge when you're first starting out," she says. "Be a walking billboard. Wear a T-shirt with your logo (on it) when you go out." She encourages others to develop their own style of photography. "Right now I enjoy bold colors, crisp images and great detail in shadows," Duplichain says. "I (want) to move toward a high-fashion, bold, vintage, Victorian style with my fashion. I like a dark and moody feel for band and musician photos."
Duplichain hopes to continue to grow and succeed through hard work.
"Photography is the only career for me, and I plan to make it happen," she says.
Visit tdphotodesigns.com, or find TD Photo Designs on Facebook to see Tristan Duplichain's work.