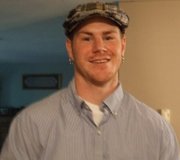 Dwayne Johnson wanted to run the Warrior Dash last year, the first year the event was held in Jackson, but waited too long to sign up. This year, on April 20, he and two of his co-workers will run the Warrior Dash together.
Before you ask, Johnson is not the same Dwayne Johnson who headlined WrestleMania XXIX at the end of March. Warrior Johnson is a 29-year-old chemist from Brandon who works for the public health lab where he studies water samples across the state.
For those who aren't familiar with the Warrior Dash, the event is a 3.34-mile run (a little over the traditional 5k distance of 3.1 miles, or 5 kilometers) with a dozen obstacles. Johnson said he has only glanced at the course once. He doesn't know that he must navigate obstacles named Storming Normandy (a big muddy puddle topped with wire that participants crawl under), Saint Cliff Hanger (a climbing wall), and the Warrior Roast (a fire pit to jump over)--plus several other obstacles on the Jackson course.
"It looks like fun and sounds like fun," Johnson says.
All entrants who complete the course get a fuzzy Warrior Dash helmet, a T-shirt and a medal. Those 21 and over also get a complimentary beer.
Johnson said he has not done any real training for the event, but his boss just completed the Paul Lacoste Fit for Change, and he did take part in a two and half mile walk/run for health awareness week at the Public Health Lab. Johnson is worried that his 38-year-old boss will outperform him, even though he is nearly a decade younger.
"I just hope to make it to the end as my goal right now," he says.
When he told his dad he was doing the Warrior Dash, Johnson said his dad gave him a funny look.
"You're paying to do that?" his dad asked.
Many people who run the Warrior Dash dress up in costumes or wear quirky shirts. Johnson and his co-workers bought $6 T-shirts on the Internet that say "Little Lebowski Urban Achievers" in reference to the 1998 film "The Big Lebowski." His boss is working on a black, white and red (the Warrior Dash colors) tutu to wear as well.
Johnson also has signed up as a St. Jude Warrior. Like many of the participants, he is raising money for St. Jude Children's Research Hospital by running the Warrior Dash. His goal is to raise $1,000 and, right now, he's has $350 in pledges. To help Johnson meet his goal, go to his fundraising webpage.
Warrior Dash organizers hope that participants raise $100,000 at the Jackson event for St. Jude. To date, the warriors have raised more than $47,000.
"It is for a good cause, and they help a lot of people," Johnson says.
The Warrior Dash is also participating in USAgain. This group takes old shoes or shoes used in the race and gives them to people around the world. The shoes get a second life instead of going to a landfill.
A fourth, unofficial member of Johnson's team is his wife, Audrey. She won't be running the Warrior Dash but will be the group's "official" photographer while giving her support to help her husband and his team make it to the end of the course.
The 2013 Mississippi Warrior Dash is at Mississippi Off Road Adventures, located at 118 Elton Road, as it was last year. Registration ended at 11:59 a.m. April 16, but spectators can come out to watch the fun.
Thirty minutes after the first wave of entrants start the course, organizers will begin the live music, and make beer and food available. The first wave starts at 9 a.m. and the last wave is scheduled to start at 4 p.m., with 30 minutes between each wave.
Parking is $10 dollars per vehicle. Spectators and participants are encouraged to car pool to the event. There is no cost to spectators beyond the parking fee, but expect to pay for food and beer and plan accordingly.
For more information and to see photos of the obstacles, visit warriordash.com.
More like this story