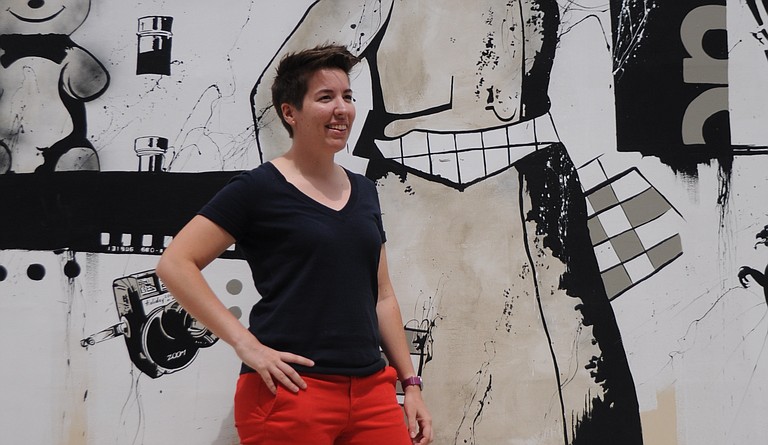 Wednesday, April 10, 2013
What initially started out as a year-long high-school project for Valerie Blakey turned into a promising career in the film industry.
"When I was in high school we had to do senior projects," Blakey says. 
 "A lot of people chose teaching, police work or doctors. I wanted to choose something fun, so I picked filmmaking. That's how I got involved with the Mississippi Film Office." She became more involved with the film office and soon earned an internship there, starting out doing production assistant work for commercials and other media projects.
Blakey, 27, spent her childhood in Jackson, but moved to Texas at 18 to attend Texas A&M. She studied geography but kept her interests in film alive by coming back every year to Mississippi to share her knowledge at a filmmaking camp in Canton. For the last 10 years, she has given back by teaching others about the intricacies of the filmmaking process.
Then, last summer Blakey accepted the opportunity to work on the James Franco project "As I Lay Dying" in Canton. She reclaimed residence here and has been home ever since.
She now works at the Mississippi Film Office in the special projects department, where she assists filmmakers shooting in the state and works to solve the inevitable problems that occur when making movies. Although she hasn't gotten the opportunity to make her own film, yet, she hopes to move into a producer role.
Part of her job at the film office includes work on the Crossroads Film Festival, now in its 14th year. She says this year's screenings run the gamut of genres: comedy blocks, documentaries, romance shorts, the world premiere of the craft-beer presentation, sci-fi and animations for children. Crossroads also offers educational workshops, which Blakey encourages media-interested Jacksonians to take part in.
"We have something for everyone," she says. "I challenge people to go see one thing. ... There's just something about watching a movie with other people who love movies."
Outside office hours, free-spirit Blakey enjoys being physically active, riding her bike around downtown or training for the Ironman Triathalon. She says Jackson has lots of entertainment to offer, as long as people are willing to get out there. "There is always something fun to do, you just have to find it," she says, adding that events like the Crossroads festival could lift the city to the next level, if Jacksonians get out there. "We have to support things in order to have things to do," she says. "So let's 
support this."
Although Jackson may not be the filmmaking capital of our country, it is certainly a thriving part of the industry. Blakey is optimistic about the strides Jackson filmmakers like herself are making. She says the film scene is not underground. It is not invisible. It just has to be searched for and upheld by us all.