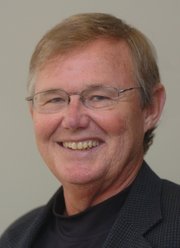 Long before he became a restaurateur, raconteur and half of the namesake for Jackson's famous Hal and Mal's, Hal White was a quarterback.
And a safety, a kicker and a punter.
"He was just about all I had," said Jim Drewry, whose first year as head coach at Booneville High was Hal White's senior season of 1965. "Hal played hurt that entire season, and he was still our best player."
Drewry went on to become the winningest coach in the rich, storied history of Mississippi high school football. His teams won 347 games. His first Booneville team won one. They lost eight and tied one.
"We'd have won a lot more if I had had more Hal Whites," Drewry said a week ago, shortly after he had learned of Hal White's death as the result of a brain aneurysm.
"We're just devastated up here in Booneville," Drewry said.
Much of Jackson and mid-Mississippi is devastated, too. I have lived in this town for nearly 34 years. I can't tell you how much more entertaining and interesting Hal and Malcolm White have made my hometown.
Malcolm was the front man for Hal and Mal's, the heartbeat of Jackson. Hal mostly worked behind the scenes. Through tough economic times and stalled downtown development, they have teamed to turn a dilapidated warehouse into a Jackson institution. I cannot imagine this town without Hal and Mal's.
Hal always has run the kitchen with his trademark soiled apron and alternating scowls and smiles. His specialties were gumbos and soups. He had taken his last breath only a few minutes earlier that Thursday afternoon at St. Dominic when Malcolm came down from ICU to greet mourning friends. Hugs and tears were exchanged, and then one of us asked Malcolm if there was anything we could do to help in any way.
Malcolm thought for a long second.
"Can you cook soup?" he asked, and managed a chuckle. "Seriously, what are we going to do without Hal's soup?"
We're going to miss more than Hal's soup. We'll miss his stories about Booneville and Mississippi State. We'll miss the gleam in his eye when he talked about his family, especially his lovely Ann.
Most who read this will know Hal and Mal White always follow a New Orleans brass band to lead the Mal's St. Paddy's Parade, dancing down Capitol Street in front of tens of thousands, delivering flowers and kisses. With that image, most could scarcely imagine a father nicknamed "War Daddy" raised the two brothers. Harold T. White Sr. was the John Wayne-like football coach at then-Perkinston Junior College.
"Hal was 5, and I was 3 when our mother died," Malcolm said. "Dad raised us with a lot of help from family and friends. Dad coached football, taught classes, went to school at night and raised us."
Harold T. White Sr. was legendary for his old-school discipline. He was called War Daddy because he came straight from the Army Air Corps to coaching.
"My dad had enormous influence on everybody he encountered and especially his sons," Malcolm said. "He was a giant of a man, a force to be reckoned with."
Malcolm White remembers Perk practices: The players doing hundreds of sit-ups; his daddy hollering, "OK, tighten up boys!" He remembers War Daddy walking across the player's stomachs in his football cleats.
At times, Malcolm saw much of his father in Hal. "I'm talking about his toughness, his work ethic and his values," Malcolm said. "I could look at Hal and see my dad in his mannerisms, the way he talked."
From football coach at Perk at the southern end of the state, Harold T. White Sr., moved to president at Northeast Junior College at Booneville on the northern end. Hal and Malcolm were teens. This was the '60s.
"We still played ball, but a big part of us wanted to be hippies," Malcolm said. "My father didn't approve. There was some conflict there as in a lot of families at that time, but we got through it."
They remained as close as brothers can be, and we are much the better for it. War Daddy lived to see his two oldest sons open Hal and Mal's. He did not live to see the institution it has become, and that's too bad.
Getting back to what we will miss about Harold T. White, Jr. (Hal), besides watching him dance down Capitol Street with brothers Malcolm and Brad and Hal's son, Harold T. White III, called Taylor ... We will miss his red beans and rice. We'll miss him holding court at the south end of the main bar.
We will miss the huge role he played in Hal and Mal's Oyster Open, a golf tournament he founded and never came close to winning, although he always seemed to have the most fun. The Oyster Open raises money for a fully funded scholarship in Harold T. White Sr.'s name at Hinds Community College. It's a hotel/restaurant/hospitality scholarship. The recipient also works at Hal and Mal's, learning the restaurant business from the inside. The Oyster Open is the only tournament in which I've played where my group gladly allowed two other groups to play through because we were too busy slurping down oysters on the half shell.
Hal was one of those golfers who loved to play no matter his score. "I'm a bogey golfer," he said. "I'll always be a bogey golfer. I might as well be a happy bogey golfer."
He wasn't about to let a shank here or a three-putt there ruin a nice stroll in the sun with good friends and cold beer. There's a lesson in there for the rest of us.
Cheers, Hal.