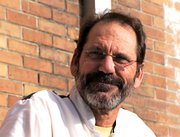 On Thursday, March 28, Jackson lost Hal White, co-founder of Hal and Mal's. People all over the city and on social media remembered his legacy this week. Here is a sampling.
From Jesse Houston's food blog at jfp.ms/houston:
The kind folks at the Jackson Free Press have asked me to write about all things food in the Food Blog, be it restaurants, cookbooks, trends, events, drinks and the secret lives of chefs. So I'll be posting here often, bringing you bits and pieces of what I've got going on, where to go eat, what's in season, what chefs to go check out and more.
Before I go any further, I'd like to dedicate this entry to Hal White of Hal and Mal's, who recently passed away. In my almost three years in Jackson, Hal and Mal's became a temple of music, beer and great food.
I've had some of the best moments of my life at Hal and Mal's, and although I never got to be super close with Hal, I remember a time when we were both cooking together at the Children's Museum, each doing a separate course.
Hal, of course, made his famous gumbo, and I believe this version had duck in it. I remember him hastily slopping it into bowls, and although it may not have looked pretty, I slurped down a bowl of the dark brown murky soup and stood completely dumbfounded by the depth of flavor and complexity that was there.
I had been told often that Hal always made the soup at Hal and Mal's, and was known as the Soup Master.
Friday night, the evening of Hal's passing, I went to Hal and Mal's, blurry-eyed and very sad and bellied up to the bar to order my first cup of Hal's gumbo since that day we worked together.
There was an entire blue crab claw sticking out of it. As I dug deeper in, I found half of a crab body. Further excavations of the gumbo revealed another crab claw, and another. A leg. The other half of the crab body. In this tiny 8-ounce cup of liquid gold was an entire crab!
I found out later, talking with Hal's son-in-law P.J., that Hal only puts four crabs into a batch of gumbo, so I think maybe Hal was smiling down on me, giving me an extra generous portion to remember him by. I won't forget it.
Read more of Jesse Houston's blog and comment at jfp.ms/poppingin.
From stories at jfp.ms:
suemscott: Continued prayers for the whole family .... for such a wonderful family & the legacy it carries.
hdmatthias: My condolences to his family. What a wonderful man.
darryl: This is such sad news. My thoughts and prayers to his family.
From Facebook:
James Bowley What a life; what a loss for us all.
Larry Davidson Thoughts and prayers, indeed!
Rhonda Richmond Let us continue to lift the spirit of Hal!
LaRue Owen Rest In Peace.
David Rae Morris Miss you already, Hal.
Thomas Barnes I am so sorry to hear this sad news. Prayers for his family...
Bridget Smith Pieschel What a terrible loss to the state of Mississippi. God rest his soul.
Melissa Burks Dearman Praying for all. Such a wonderful person!
Kathleen Conner Strickland Godspeed, Hal. Prayers going up for the White family.
Melinda Casey RIP. Many prayers for his family and friends.
Margaret Burkes My prayers with his daughter and family.
Jason Stanfield Sad news. Godspeed, Hal.
Stephanie Brown So sad.
Richard Laswell Although I'd never met him, I have seen his fingerprints on many of the things that I like best about Jackson. Rest in peace, Hal, You will be missed.
ShaWanda Jacome So sad. Prayers go out to his family for comfort during this difficult time.
BlackButterfly Horton Sorry to hear this. My thoughts & prayers are with his family and the team at Hal & Mal's.
Cristin Coleman Great loss. Hal and Mal's won't be the same, still great but not the same. My thoughts are with the White family.
Kimberly Mason Terrible. What a tragedy.
Theresa Trussell RIP. will be truely missed. He was a Jackson icon.
Gretta May A sad day in Jackson today....
From Twitter:
Burns Strider @BStrider: A remarkable Mississippian. RIP, sir. If in MS I'd be headed to Hal & Mal's...
Laura Conaway @oleta: Thank you, Hal White, for never throwing us out of your kitchen no matter how late it was or how ridiculous we were.
Rick Cleveland @rick_cleveland: RIP Hal White: friend, husband, dad, granddad, all-world guy. He loved to cook and play golf. He was a better cook.
You can also read Tyler Cleveland's obituary for Hal at jfp.ms/HalObit and his long interview with Malcolm White at jfp.ms/Malcolm. Read R.L. Nave's Jacksonian profile of Hal at jfp.ms/HalJacksonian.