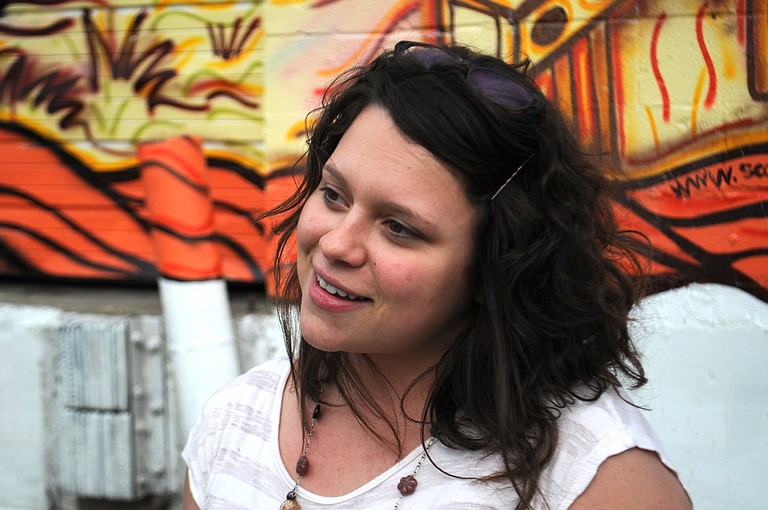 The old warehouse at 126 Keener Ave. in midtown doesn't look like much from the outside, but it's what's going on inside that is important.
Midtown Partners is prepping the building for a major makeover so it can be transformed into a creative businesses incubator--an artist's haven that operates like a cooperative for young creatives to get their careers off the ground.
Midtown Partners' first-ever Creative Economies Coordinator Whitney Grant is spearheading the project. Grant moved to midtown in 2012. A 2009 graduate of Mississippi State's School of Architecture, she has a vision of what she wants for the incubator, if not a firm timeline, yet.
"The idea of this incubator has been stirring for a while as a partnership between Midtown Partners and the (Millsaps College) Else School of Business," Grant said. "They've been looking at how to turn this building into the first creative business incubator in the state."
Business incubators exist in the area, Grant said, but none of them are doing what this one hopes to.
The San Antonio, Texas, native is a veteran of community-development projects. Grant has worked has been producing a Jackson event for Figment, an organization that promotes the arts in cities all over the country by showcasing projects at regular events. The next Figment Jackson will be May 18 and 19 at the incubator.
Grant has incubator models to follow. She cited a cooperative called The Steel Yard in Providence, R.I., as a model for her project. The Steel Yard is set up in an old iron-works factory, and offers workspace, classes and a yard that doubles as a gallery for artists. It promotes itself as "a sponsor and catalyst for innovative approaches to urban revitalization and arts promotion."
The privately run $3.1 billion Kresge Foundation is funding Grant's position for three years. Kresge is headquartered in Detroit and provides grants to promote the arts all over the country.
"As you can see, the building needs a lot of work," she said as she gives a tour of the building, pointing to a room with mildewed walls. "But once we get the mold out and get some of these walls knocked down, we're going to have plenty of room for workshops and studios."
After raising money to get the building up to par, structurally, and laying the plans for a self-sustaining cooperative, Grant's hopes are that the foundation will make another investment to get the incubator off the ground.
The goal is to offer rental space to artists of all sorts, where they will share equipment, ideas, workspace and a showroom, all at an affordable rate that make it feasible for a young entrepreneur.
One young artist, Greg Gandy, is already renting space in the building. The painter, a graduate of the Mississippi School for the Arts, has been renting studio space and helping revamp the old building for more than a year.
"When I first entered this building, there was trash and storage up to my eyeballs in nearly every room," Gandy said. "So they got me one of those big industrial-sized dumpsters, and I cleaned out the big room in the back by myself in one afternoon. After they saw what I had done, they got me another dumpster, and I got to spend an afternoon directing 30 or 40 volunteers to get the rest of the garbage out of here."
Gandy receives adjusted rates for the space he rents for providing services such as keeping up the landscaping around the building, painting walls and making sure the building is secure at night.
That's the business model for the incubator going forward, and the more tenants it has, the better it will be for the people who share the space and the more tools the incubator can acquire for the artists to use.
"It has a chance to be something very cool," Gandy said. "Whitney has really helped this project take off and done a great job. I can tell you it's really starting to grow by leaps and bounds."
The next step for the incubator will be more planning and then, this summer, the first round of fund-raising. Grant said it's too early to give a firm estimate, but it will likely take anywhere from $100,000 to $400,000 to get the building into shape.
"We still have to get a building inspector in here and let them take a look at the structure," she said. "That's going to be a big day for us because we'll find out exactly what we need to get this place back into shape."