Wednesday, September 26, 2012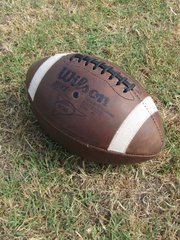 Another week of college football and another week of teams losing in the JFP top 25. UCLA, Oklahoma and Clemson all fell from the ranks of the unbeaten last Saturday.
Florida State showed it is the team to beat in the ACC, and Kansas State showed the same in the Big-12 with big wins over ranked teams. Alabama rolled again, and LSU struggled over the weekend, but both are still atop the poll.
Rank/Team/Record/Previous Rank
1 Alabama Crimson Tide 4-0 1
2 LSU Tigers 4-0 2
3 Oregon Ducks 4-0 3
4 Georgia Bulldogs 4-0 4
5 South Carolina Gamecocks 4-0 5
6 Florida State Seminoles 4-0 6
7 Stanford Cardinals 3-0 8
8 West Virginia Mountaineers 3-0 9
9 Texas Longhorns 3-0 11
10 Kansas State Wildcats 4-0 14
11 USC Trojans 3-1 12
12 TCU Horned Frogs 3-0 13
13 Florida Gators 4-0 15
14 Notre Dame Fighting Irish 4-0 17
15 Oklahoma Sooners 2-1 7
16 Louisville Cardinals 4-0 19
17 Michigan State Spartans 3-1 18
18 Mississippi State Bulldogs 4-0 21
19 Virginia Tech Hokies 3-1 20
20 Boise State Broncos 2-1 22
21 Tennessee Volunteers 3-1 23
22 Northwestern Wildcats 4-0 24
23 Oregon State Beavers 2-0 NR
24 Rutgers Scarlet Knights 4-0 NR
25 Clemson Tigers 3-1 16
Dropped out: UCLA Bruins and Michigan Wolverines