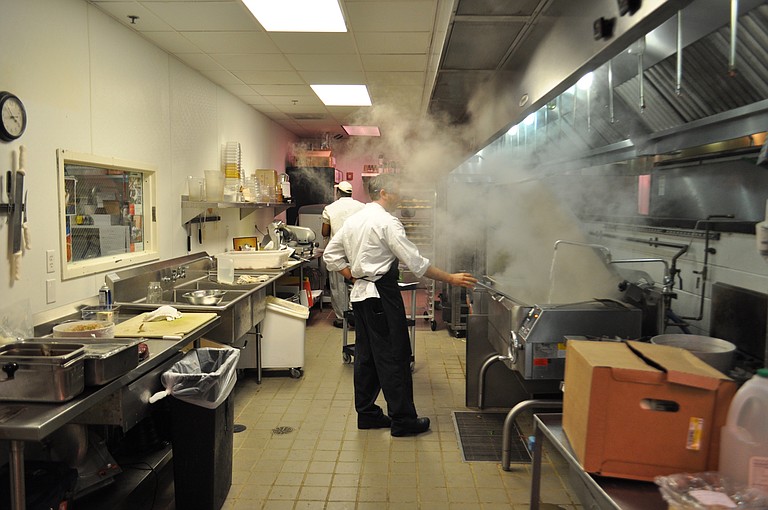 Wednesday, September 19, 2012
There has never been a better time to be a foodie in Jackson. A decade ago, the city enjoyed plenty of quality chefs, but diners rarely knew them by name. These days, chefs at popular restaurants are local celebrities. Events centered around food—such as Iron Chef Jackson, Clash in the Kitchen and pop-up restaurants—are big hits, and customers want to eat locally grown, interesting dishes.
"We have, here locally, seen a true food renaissance," says Grady Griffin, director of education at the Mississippi Hospitality and Restaurant Association. "We continue to celebrate easily one of the greatest independent restaurant markets anywhere in the country. The chains, as important as they are to the industry, haven't taken over the metro area, and I think that speaks a lot to our community."
Having traveled around the country working with other chefs, Chef Derek Emerson of Walker's Drive-In and Local 463, agrees. "For our size, there's probably not a city with more locally run quality restaurants," Emerson says.
In addition, Jacksonians have more reasons to stay downtown than ever before. No longer do residents have to trek out to Flowood or Madison for a fine dining experience. Parlor Market, which opened in 2010, thrived under founder Craig Noone's guiding hand, and more recently under Chef de Cuisine Jesse Houston's. With the revitalization of the King Edward and Standard Life buildings came dining opportunities helmed by chefs Nick Wallace and Luis Bruno.
Food diversity has blossomed, too, from the Ethiopian Abeba to the taquerias and sushi joints around the metro.
The best of the last 10 years:
Best New Restaurant
2002: category didn't exist
2003: category didn't exist
2004: Julep
2005: Pan Asia
2006: Del Sol
2007: Pizza Shack
2008: Sal & Mookie's
2009: Mint
2010: The Auditorium
2011: Parlor Market
2012: Table 100
More: http://www.bestof...
RIP
Bruno's Eclectic
Denney's
Schimmel's
Steam Room
Grille
Giovanni's
AJ's on the Lake
Moe's
India Palace
The Auditorium
Sportsman's
Lodge
Of course, the last decade has experienced a lagging economy, which has affected many restaurants. "The two most recurring challenges that we continue to hear are profitability and finding and retaining good help," Griffin says. "It's just tough ... to maintain what is, and historically always has been, a low profit-margin business."
But Emerson sees the food economy in Jackson surviving better than in other cities. "I have friends in L.A. where, when the economy went bad, things got really hard. That didn't seem to happen as much here," he says.
Collaboration is at an all-time high between chefs and restaurateurs. Chefs share an attitude of respect and a willingness to learn from one another. From Parlor Market's various PM events, which have collaborated with historic soul-food joint Peaches and Fondren favorite Sal & Mookie's, to the art museum's Palette Café handing the reins over to Hattiesburg chef Robert St. John for four days, to the creative minds behind Mangia Bene starting a creative consulting branch to advise up-and-coming restaurants—chefs want to cook together, work together and help each other.
Another important shift in the food industry is the locavore movement. "The consuming public has never been more educated about wanting to know where their food is coming from, and the more we can connect restaurateurs and our local growers, I think it's going to help everybody in the long run, from the mom-and-pops to the growers being more successful and creating healthier opportunities and lifestyles," Griffin says.
Foodies are taking notice. Andrew Zimmern, host of several food shows on the Travel Channel, told the JFP in April, "I loved, loved the energy (at the Appetite of Jackson event). And I also like something about cities your size where an entire community really can gather in one place. I mean, you don't have that in a city like New York. It's impossible. ... There's a lot of really great food that's going on down in Mississippi."
Even with all the growth, Jackson is still in the heart of the South, which means some things will never change. Perennial favorites Two Sisters Café, Walker's Drive-In and Primos Café have managed to succeed in the aughts and beyond by, for the most part, sticking to what made them great in the first place: good ole southern cookin'.
"People want to come to Jackson to open restaurants because we have a good dining clientele," Emerson says. "People go out to eat and spend time with their family. It's a southern way of life."