Wednesday, September 19, 2012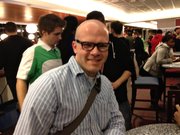 Imagine driving behind someone who is swerving from side to side. For years, we would have probably assumed that driver was drinking and driving. Now, there is a growing problem that is just as deadly: distracted driving—and more specifically, the use of cell phones while driving.
The use of cell phones has become an overwhelming problem in our culture, and it is injuring and killing people every day. In 2010, 18 percent of injury crashes were reported as distraction-affected crashes, reports the website distraction.gov, a site run by the U.S. Department of Transportation.
"Drivers who use hand-held devices are four times more likely to get into crashes serious enough to injure themselves," the site states.
This is alarming and a serious matter.
Across the country, states are passing laws to ban cell-phone use—from texting and driving, to cell phone use without a "hands-free" device.
Mississippi is one of only 10 states without such a law. But it's not for lack of trying. One senator has presented a bill each year for the past five years.
Many in the state Legislature see this as a controversial bill, but an overwhelming majority of citizens ask, "Why don't we have this type of bill already?"
I am asking for your help to pass an upcoming bill that will make our roadways safer for everyone. This bill may mean you can't take a call right now or that you'll send an "LOL" some other time. It can also mean that your destination—and the destination of others on the road—is not the emergency room.
So, how exactly can you help? First, make a personal commitment to stop using your cell phone while in the car or, at least, stop texting and driving.
Second, please take two minutes to complete our survey. You can find it here at bit.ly/MissDistractedDrivingSurvey. Your feedback is absolutely invaluable.
Thank you for your commitment to safety and making our roads safer.