Wednesday, September 19, 2012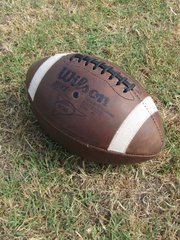 It was another shakeup weekend. While Alabama and LSU proved again that they are the best in college football, other top teams fell.
USC might have seen their title hopes and Matt Barkley's Heisman hopes both go down on one night. The Big Ten might have seen the title hopes of a whole conference disappear against Notre Dame.
Previous/Rank/Team/Record Rank
1 Alabama Crimson Tide 3-0 1
2 LSU Tigers 3-0 2
3 Oregon Ducks 3-0 4
4 Georgia Bulldogs 3-0 5
5 South Carolina Gamecocks 3-0 6
6 Florida State Seminoles 3-0 8
7 Oklahoma Sooners 2-0 7
8 Stanford Cardinal 3-0 11
9 West Virginia Mountaineers 2-0 12
10 Michigan Wolverines 2-1 10
11 Texas Longhorns 3-0 14
12 USC Trojans 2-1 3
13 TCU Horned Frogs 2-0 15
14 Kansas State Wildcats 3-0 16
15 Florida Gators 3-0 17
16 Clemson Tigers 3-0 18
17 Notre Dame Fighting Irish 3-0 20
18 Michigan State Spartans 2-1 9
19 Louisville Cardinal 3-0 22
20 Virginia Tech Hokies 2-1 13
21 Mississippi State Bulldogs 3-0 23
22 Boise State Broncos 1-1 24
23 Tennessee Volunteers 2-1 19
24 Northwestern Wildcats 3-0 NR
25 UCLA Bruins 3-0 NR
Dropped out: Arkansas Razorback and BYU Cougars