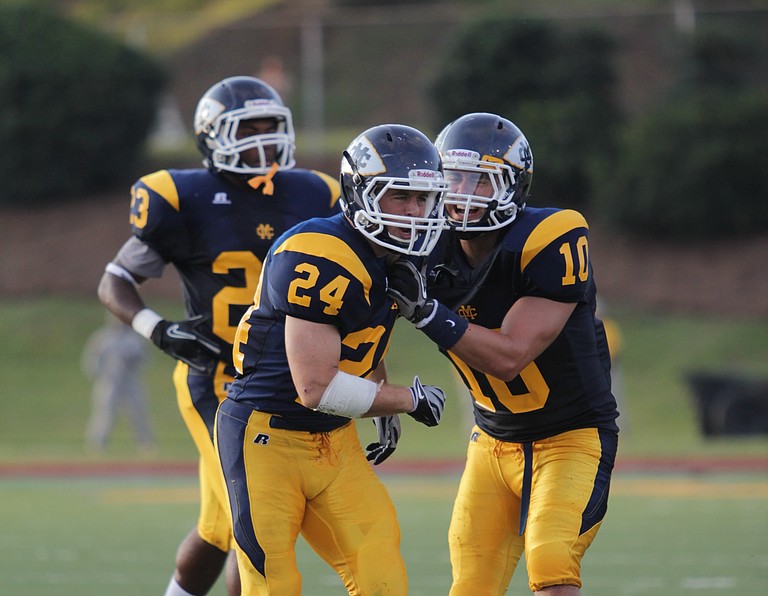 Thursday, September 13, 2012
Mississippi College entered its game against Webber International needing a win after losing the season opener to Millsaps. The Choctaws got a superb effort from junior defensive back Keith Villafranco.
Villafranco filled the stat sheet with seven tackles, six of which were solo tackles, one forced fumble and two interceptions. His play earned him the title of American Southwest Conference defensive player of the week.
On Webber's first drive, Villafranco forced a fumble from running back Baylin Trujillo. Choctaw defender Josh Williams recovered the fumble and returned it 24 yards for the game's first touchdown. The fumble helped give Mississippi College an early 7-0 lead. Villafranco made his first interception before the end of the first quarter.
MC cashed in that interception for a field goal to raise their lead to 10-0 after the first quarter. All 10 points came from turnovers, including one fumble and one interception that Villafranco forced.
Villafranco's last interception came in the fourth quarter with Mississippi College holding on to a slim 31-24 lead. Webber International started their final drive with a little more than a minute left in the game.
Webber drove to midfield, aided by a roughing-the-passer penalty on Villafranco. During the next play, at the 50-yard line, Villafranco intercepted a deep pass down the field at MC's 16-yard line.
The Choctaws killed the final 13 seconds of the game to hold on for the 31-24 win and move to 1-1 for the season.
Villafranco has 14 total tackles so far this season, with 12 solo tackles, two forced fumbles, two interceptions and three pass breakups. The Kenner, La., native was the main kickoff returner for Mississippi College last season, but he only played in two games.
Last season, Villafranco had seven kickoff returns for 168 yards, with 94 of those yards coming into last year's season opener against Millsaps.
Villafranco is an educational major who graduated from Crescent City Christian School.