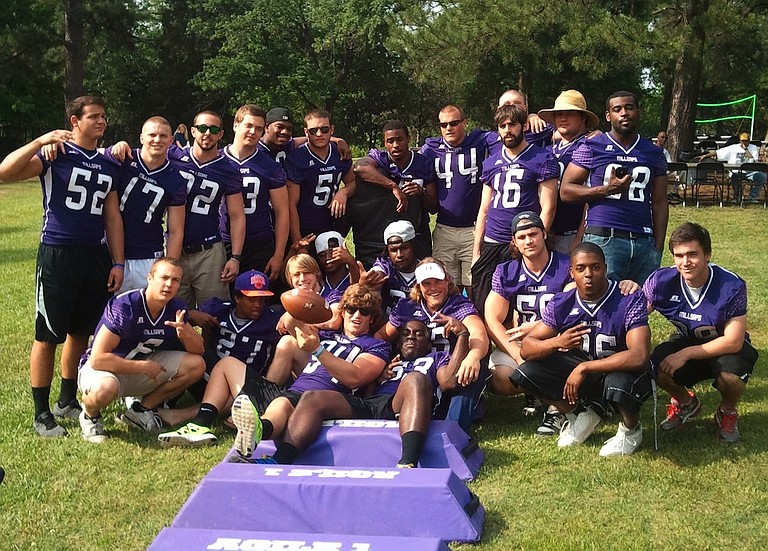 Thursday, September 6, 2012
Tropical Storm Isaac affected college football games all over Mississippi last week. One of those games was the Backyard Brawl between the Millsaps Majors and Mississippi College Choctaws, scheduled for Aug. 30 but postponed until Sept. 1 due to inclement weather.
Mississippi College won this annual rivalry game 33-27 last year against MC. Millsaps hosted the game this year and was looking to end a three-game losing streak in the Brawl.
The Majors struck first with an eight-play drive that took nearly four minutes and ended with Mike Barthelemy's 1-yard touchdown run. Millsaps went for a two-point conversion, but MC intercepted Majors quarterback Garrett Pinciotti's pass.
Barthelemy's touchdown gave Millsaps a 6-0 lead after the first quarter. Both teams traded field goals to start the second quarter, with Mississippi College striking first.
Down 9-3, the Choctaws mounted a five-play drive that took a little over two and half minutes for their first touchdown of the 2012 season. Therion Robinson finished off the MC drive with a 19-yard touchdown run to give the Choctaws a 10-9 lead over the Majors.
Neither team was able to put together another drive for points before halftime, so Mississippi College went into the break with a 10-9 lead. Millsaps had to rally to avoid a fourth straight loss to the Choctaws.
The third quarter produced only one scoring drive: Millsaps put together a drive that lasted nine plays over 80 yards in a little over three minutes.
Majors retook the lead via Kegan Joplin's 14-yard touchdown catch from Pinciotti. The Joplin touchdown gave the Majors a 16-10 lead.
Early in the fourth quarter, Millsaps stretched out their lead when Pinciotti found Jonathan Moore on a 28-yard touchdown pass. The Moore touchdown capped an eight-play, 69-yard drive that nearly took four minutes.
With Millsaps leading MC 23-10, the Choctaws needed two touchdowns to pull the game out. Mississippi College went on a 10-play, 78-yard drive that ended with Jonathon Redd finding Les Lemons for a 15-yard touchdown pass, closing the score gap.
The Majors led 23-17 late in the fourth quarter, breaking their three-game losing streak to MC with a victory.
Barthelemy carried the Majors to victory, rushing for 150 yards on 29 carries. Jalen Jones added 77 yards on the ground on nine carries. Millsaps had 258 rushing yards in the game, compared to Mississippi College managing just 74 yards.
Correction: An earlier version identified the team as the Mississippi Majors in the headline. We apologize for the error.
More like this story