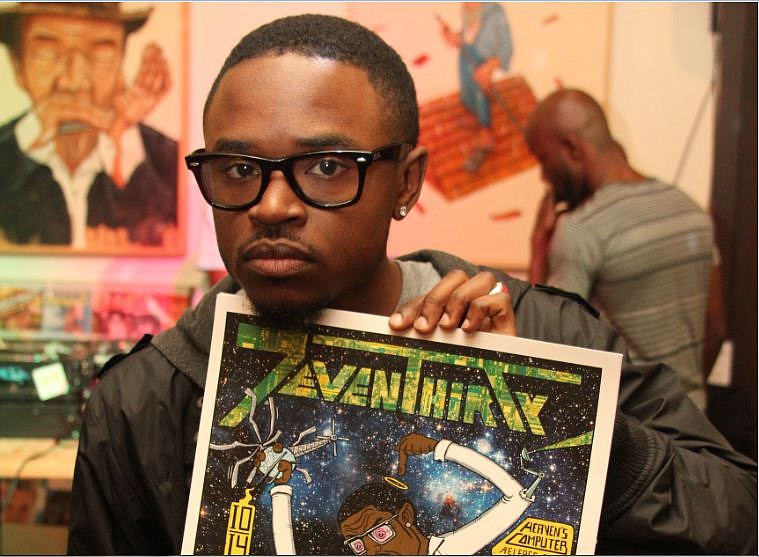 Wednesday, October 31, 2012
I know a lot of really good rappers. Jackson is loaded with them; my friends in places like Baton Rouge and Denver rank among some of the best nationally. But, I have always said, I don't know anybody who is as good as 7evenThirty.
7evenThirty, aka Marques Phillips, is a Jackson native who relocated with his wife, Tori, to Dallas a few years ago after the death of their baby daughter, Jada. On Oct. 14, Phillips made a triumphant return to the city to perform at Morningbell Records to celebrate the release of his newest album, "Heaven's Computer."
"Heaven's Computer" is 7even's second full-length release, and his first on Mello Music Group, an emerging indie hip-hop label that is putting out some of the most creative hip-hop music in the country. We have all known for a while that Phillips was destined for something bigger, and signing a two-album deal with an influential independent is that next step.
7even took the long path to Mello Music Group. In Dallas, he befriended a producer and former Jacksonian named Gensu Dean. Any Crooked Lettaz fans should recognize that name, as he provided some beats for "Grey Skies." Dean and 7even made a few songs together, and Dean presented "Heaven's Computer," which had been awaiting release for over a year, to the guys at Mello. The rest is history. Serendipitous is the word that comes to mind.
"Heaven's Computer" is a concept album that follows the exploits of a space traveler named Max Redrum goes to planets to prep them for destruction. With the help of his on-board computer Alfie, Max lands on earth and immediately begins crushing wack MC's on the standout tracks "Twenty-Twelve" and "Get Up!!!" Plans go awry when Max meets a young lady on "Earth Gurl" and after they experience "Chocolate Bliss" (a song with more similes and metaphors than an AP English exam), Max's mission is totally altered.
The shining track of the album is "God," a song dedicated to the late Jada. "If you knew Jada, this song is more special," Phillips says. "God" is a heart-wrenching song that drives the concept of the record home while giving Phillips an opportunity for some kind of catharsis.

I don't want to give away too much about the rest of the album or the ending, but I would be remiss to not mention my favorite track, "Space Gangsta," which features a standout verse from Jackson's Coke Bumaye. This song is everything I hoped it would be when they told me about it over a year ago. That's all I am going to say.
At Morningbell for the release show, which according to many in attendance, including the owners, was the best show yet at the young venue, Phillips looked tired, having just gotten into town from Atlanta where he performed a raucous set at the A3C Hip Hop festival, which was headlined by Raekwon, Big Boi and Devin the Dude. He had a little bit different look in his eyes than the last time I saw him, which probably comes from having a nationally well-received album, performing shows with hip-hop legends, and well over 5,000 YouTube views for "Get Up!!!" in less than a week.
"Y'all know me as Marques. We hang out; we're friends. Y'all know me on a personal level. Now, it is happening more that people only know me as 7evenThirty. That is weird," he tells me. 7even loves being home in Jackson, though, where he can be Marques Phillips. "I love Jackson more than I ever loved Jackson before," he says. "It's a bizarre place." If you know Marques, you know he means that in the best way possible.
"Heaven's Computer" is at Morningbell Records and online at iTunes, Amazon, and mellomusicgroup.com. 7evenThirty performs at the Red Room at Hal & Mal's Nov. 9 .