Wednesday, October 24, 2012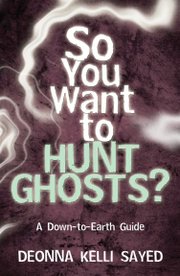 Do you want to know more about ghosts and paranormal investigations? Here are some books that might help you.
• "So You Want to Hunt Ghosts? A Down-to-Earth Guide" by Deonna Kelli Sayed (Llewellyn Publications, 2012, $15.99).
This book is written for adults and goes into great detail about every step of the paranormal journey into ghost hunting. She breaks down all the steps. Sayed is an American Muslim, and she shares interesting vignettes of the Muslim view
toward ghost hunting.
• "The Ghost Hunter's Survival Guide" by Michelle Belanger (Llewellyn Publications, 2009, $16.95)
This book is chock full of information for the more serious paranormal investigator and anyone who is worried about having ghouls in his or her house. Belanger gives important tips on how people can protect themselves from all sorts of entities that go bump in the night.
• "A History of Ghosts: The True Story of Séance, Mediums, Ghosts, and Ghostbusters" by Peter H. Aykroyd with Angela Narth (Rodale Books, 2009, $25.99)
This is an interesting story written by actor Dan Aykroyd's father. His great grandfather was part of the occult séance and medium crowd of the early 1900s. The Aykroyd family was Dan Aykroyd's inspiration for writing "Ghostbusters."
• "The Other Side: A Teen's Guide to Ghost Hunting and the Paranormal" by Marley Gibson, Patrick Burns and Dave Schrader (Graphia, 2009, $10.99).
Like "Twilight" and "Hunger Games" this book may have been written for teenagers, but adults will enjoy the light humor and factual information. It's a quick read that includes the "don'ts" that teens (and probably most people) should never do. This book stresses safety and protection and includes a good list of equipment for the beginning ghost hunter.
• "Ghost Hunting: True Stories of Unexplained Phenomena from The Atlantic Paranormal Society" by Jason Hawes and Grant Wilson (Gallery Books, 2007, $15)
Hawes and Wilson are the TAPS guys. They started the organization and help bring ghost hunting to cable TV marathons. The book includes true stories of their investigations and info on all the cool tech equipment they use to find ghosts.
Looking for ghosts closer to home? Check out one of these books.
• "Haunted Vicksburg" by Alan Brown (The History Press, 2010, $12.99)
Brown lists at least 16 locations around Vicksburg and gives detailed information concerning the history and the hauntings. This is a must read before a night at any Vicksburg bed and breakfast.
• "The Haunted Natchez Trace" by Bud Steed (The History Press, 2012, $16.99)
Take a journey up the Natchez Trace with historical stories of the strange and horrible things that happened over the Trace's 8,000-year history. Read about the Devil's Punch Bowl, Rodney, Windsor, Rocky Springs, Jackson, Ridgeland, Canton—all the way to Nashville, Tenn.
More like this story