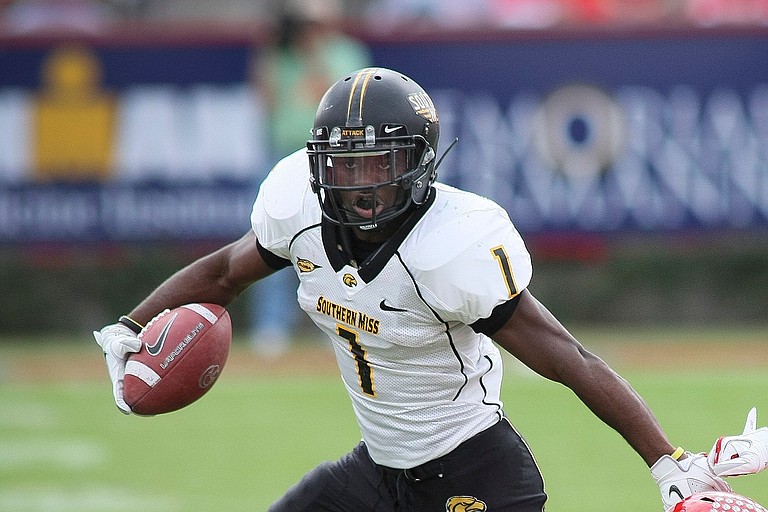 Wednesday, October 24, 2012
Last week was pretty successful for college football teams in Mississippi. Just about everyone not playing another Mississippi school was able to win. Mississippi State and Millsaps kept rolling up the wins but Southern Miss is still searching for just one victory this season.
Ole Miss was off last week and continues their quest for six wins and bowl eligibility this week against Arkansas.
The Bulldogs (7-0) started slowly against Middle Tennessee. At halftime, MSU only held a 10-3 lead over the Blue Raiders.
In the second half, Mississippi State flexed their muscles, out scoring Middle Tennessee 35-0 and going on to an easy
45-3 victory. Tyler Russell continued his strong season, completing 17 of 21 pass attempts for 191 yards and three touchdowns.
Defensive back Jonathan Banks tied the school record for interceptions with his 16th career catch. LaDarius Perkins is one of two running backs in Football Bowl Subdivision to have rushed for a touchdown in every game this season.
The win sets up a showdown between undefeated teams as MSU faces Alabama this week.
Southern Miss (0-7) hosted Marshall for home coming last week and the Thundering Herd made themselves right at home in Hattiesburg. The Golden Eagles watched their opponent race out to a 31-17 halftime score and never caught up in the second half.
USM needed a win to keep its slim hopes of 19 consecutive winning seasons alive. Alas, it was not to be as Marshall ran away from the Golden Eagles for 59-24.
The loss guarantees that Southern Miss will suffer its first losing season since 1994.
Jackson State (4-4) hosted Mississippi Valley State (2-5) for home coming last weekend. After a scoreless first half, the Tigers broke through with a 9-yard touchdown pass by Clayton Moore to Rico Richardson late in the third quarter for a 7-0 lead.
The Delta Devils wouldn't go down easy as they found the end zone on a 71-yard touchdown pass from Marcus Randle to Richard Drake midway through the fourth quarter to tie the game up at 7-7. Neither team would be able to score before regulation ended, forcing overtime play.
In the overtime period, Moore led JSU to a touchdown on their possession. MVSU would end up fumbling the ball to Jackson State on their overtime chance, wrapping up the Tigers 14-7 win.
Alcorn State (3-5) never had a chance against Prairie View A&M. The Braves fell behind 10-0 in the first quarter and never caught up against the Panthers. ASU missed a chance to get to .500 on the season if they had won.
Prairie View would go on to defeat Alcorn State 52-37.
Delta State (3-4) entered the fourth quarter down 45-41 to Valdosta State. The Statesmen rallied from a 31-20 halftime deficit with 21 points in the third quarter.
Valdosta State outscored DSU 14-0 in the final quarter to cruse to a 59-41 victory.
Millsaps (6-1) kept rolling right along this week with a 47-13 road victory over Rhodes College. The Majors are 3-0 in Southern Athletic Association play with one more conference game left to play. Millsaps won their fourth road game of the season with this win.
Belhaven (4-4) continued winning this week with a 35-7 victory over Lindsey Wilson College. The Blazers have won two in a row and are 3-1 in Mid-South Conference play. Belhaven has two more conference games left on their schedule.
Mississippi College (2-5) broke a four-game losing streak with its 24-21 win over Texas Lutheran. The Choctaws entered the final quarter of play trailing 21-17 but scored a touchdown early in the fourth quarter and held on for their second victory of 2012.
Holmes Community College (4-4) reached .500 on the season with its thrilling 35-34 victory over Hinds Community College (3-5) last Thursday night.