Wednesday, October 24, 2012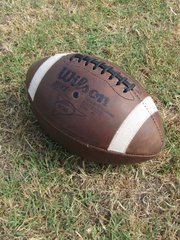 October separates the contenders from the pretenders in college football. West Virginia has been proven a pretender, and the Florida Gators have shown they are contenders.
Kansas State, Oregon and Notre Dame might be the biggest threat to the SEC's national championship streak. Several one-loss teams lurk in the back ground waiting for the undefeated teams to slip up.
Rank /Team/Record/Previous Rank
1 Alabama Crimson Tide 7-0 1
2 Oregon Ducks 7-0 2
3 Florida Gators 7-0 3
4 Kansas State 7-0 4
5 Notre Dame Fighting Irish 7-0 5
6 LSU Tigers 7-1 6
7 USC Trojans 6-1 7
8 Georgia Bulldogs 6-1 9
9 Louisville Cardinals 7-0 10
10 Mississippi State Bulldogs 7-0 12
11 Oklahoma Sooners 5-1 11
12 Oregon State Beavers 6-0 13
13 Florida State Seminoles 7-1 15
14 Boise State Broncos 6-1 16
15 Rutgers Scarlet Knights 7-0 17
16 South Carolina Gamecocks 6-2 8
17 Stanford Cardinal 5-2 18
18 Clemson Tigers 6-1 19
19 Ohio Bobcats 7-0 24
20 West Virginia Mountaineers 5-2 14
21 Wisconsin Badgers 6-2 NR
22 Duke Blue Devils 6-2 NR
23 Texas A&M Aggies 5-2 23
24 TCU Horned Frogs 5-2 20
25 Toledo Rockets 6-1 NR
Dropped out: Northwestern Wildcats, Cincinnati Bearcats and Arizona State Sun Devils
More like this story