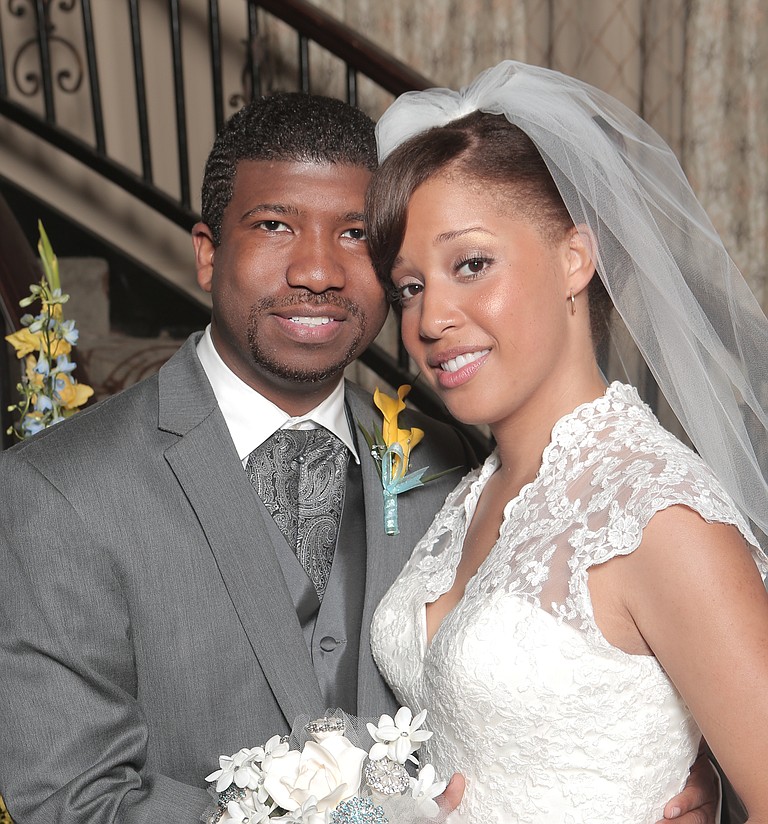 Wednesday, October 17, 2012
"Who is that young man in the pulpit?"
"That's the pastor," Allison's mom, Gerilynn Thomas, responded. CJ Rhodes is the youngest pastor to serve at Mount Helm Baptist Church, Jackson's oldest African American church. After first spotting each other at a funeral for Allison's cousin almost three years ago, CJ, now 30, and Allison, now 27, were formally introduced by Naomi Sams, the minister of music at Mount Helm, at the repast. They were both fairly shy and did not exchange numbers.
But after that meeting CJ could not get Allison out of his head, so he hunted around for her number and worked up the courage to call. Although they were not looking to be in a relationship, they built a deep friendship. "Around that time, I was working on myself as a Christian. He became that friend I could always go to, never judgmental, and I saw his true colors on the first day we met," Allison says.
Three months into the friendship, they made it official and began dating. Remembering the outcome of previous relationships, CJ became a bit concerned, "She was so pretty, I had to make sure she was beyond just looks," he says. Just nine months later, CJ knew Allison was the one.
Everyone in Allison's family loved CJ and knew that one day the two would get married; they just weren't sure when. The couple discussed marriage and knew it was a lifetime commitment, something to take seriously. While watching television one day, Allison made a comment about a yellow diamond ring that she just saw and how she wanted one similar to it. CJ did not respond, but he paid close attention and made a mental note. When it came time to find a ring, he knew exactly what to look for.
The couple planned a visit to the New Orleans Aquarium, where CJ planned to propose. Unfortunately, Allison was called into work and had to cancel the trip, leaving CJ to find another opportunity. While getting ready for church, CJ had a spiritual feeling that came over him. "It was a Godly moment," he explains. He knew that day would be the day that he proposed to Allison.
Vendors
Wedding planner: Gerilynn Thomas, the bride's mother
Officiant: Pastor Reginald Berkley of Cade Chapel in Jackson
Ceremony location: Galloway Memorial United Methodist Church (305 N. Congress St.)
Reception location: Old Capitol Inn (226 N. State St., 601-359-9000)
Florist: Sam McGee
Groom's attire: Tuxedo Junction (Northpark Mall, 1200 E. County Line Road, Suite 237, Ridgeland, 601-957-1233)
Bride's attire: Imaginations Bridal (119 W. Cherokee St., Brookhaven, 601-833-6280)
Caterer: Old Capitol Inn (226 N. State St., 601-359-9000)
Cake: Carolyn Michaels, CM Designers
Photographer: Sterling Photography (731 Pear Orchard Road, 601-392-3032)
Engagement photographer: Carlyn Photography (753 N. President St., 601-212-0570)
Invitations and programs: Sabrina Mallard, friend of the wedding planner
Music: DJ Shanomak (http://www.facebo...">facebook.com/Shan...)
After the closing prayer, CJ called Allison to the front and proposed before the entire congregation. "I didn't even have a cute outfit on," she says, laughing. They met in church, so he proposed in church, as a reminder that God brought them together.
During the proposal, her friend recorded it on her phone and placed it on Facebook to share the good news of her friend. Unfortunately, due to the recording, word of the proposal got back to her mother before the couple had a chance to tell her themselves.
"She was livid," Allison laughs. But the joy of her youngest daughter's engagement quickly dismissed that feeling, and they began to set a date for the wedding.
The couple knew from the beginning that Allison's mother would be the wedding planner. Her mother took their ideas and executed them exactly how they wanted. The colors were yellow and sky blue, the couple's two favorite colors, as well as the colors of the church, Galloway Memorial United Methodist Church.
Sabrina Mallard, a close friend of the family, created a crest, as well as shower invitations and programs for the approximately 900 guests invited. Allison found her beautiful white dress at Imaginations in Brookhaven, and CJ his tuxedo at Tuxedo Junction in Northpark Mall. Accompanying Allison were 12 bridesmaids, including her sister as the matron of honor. CJ had six groomsmen, with his brother as
his best man.
CJ and Allison knew that a typical wedding was not what they wanted. "We knew we wanted the spirit to move throughout the wedding," they explain. They wanted the guests to see what God has truly blessed them with, something that a wedding planner could not do. The 11 a.m. wedding on June 23 consisted of 850 guests, and immediately following was a reception at the Old Capitol Inn. The menu covered everything from sushi to fried chicken, topped by a four-tier yellow and blue lemon wedding cake that Allison designed herself. For their picture-perfect day, Sterling Photography captured the wedding and reception.
Their wedding was a true celebration of Allison and CJ's love and a faithful testimony of how God brought two people together within his word and love. "That is why a man leaves his father and mother and is united to his wife, and they become one flesh" Genesis 2:24.