Wednesday, October 17, 2012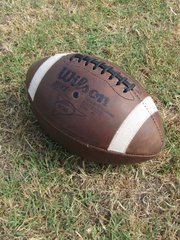 October has provided two straight weeks of upsets in the top ten of the Top 25 teams. West Virginia saw their undefeated season go down against Texas Tech.
South Carolina found out why it is dangerous to declare the enigma that is LSU dead after a loss, and Notre Dame and Kansas State had to escape with wins to stay undefeated with other teams in action in the top ten.
Rank/Team/Record/Previous Rank
1 Alabama Crimson Tide 6-0 1
2 Oregon Ducks 6-0 2
3 Florida Gators 6-0 5
4 Kansas State Wildcats 6-0 6
5 Notre Dame Fighting Irish 6-0 7
6 LSU Tigers 6-1 8
7 USC Trojans 5-1 9
8 South Carolina Gamecocks 6-1 3
9 Georgia Bulldogs 5-1 10
10 Louisville Cardinals 6-0 12
11 Oklahoma Sooners 4-1 13
12 Mississippi State Bulldogs 6-0 14
13 Oregon State Beavers 5-0 15
14 West Virginia Mountaineers 5-1 4
15 Florida State Seminoles 6-1 17
16 Boise State Broncos 5-1 18
17 Rutgers Scarlet Knights 6-0 19
18 Stanford Cardinal 4-2 11
19 Clemson Tigers 5-1 20
20 TCU Horned Frogs 5-1 21
21 Cincinnati Bearcats 5-0 22
22 Texas A&M Aggies 5-1 NR
23 Northwestern Wildcats 6-1 24
24 Ohio Bobcats 7-0 25
25 Arizona State Sun Devils 5-1 NR
Dropped out: Texas Longhorns and Louisiana Tech Bulldogs