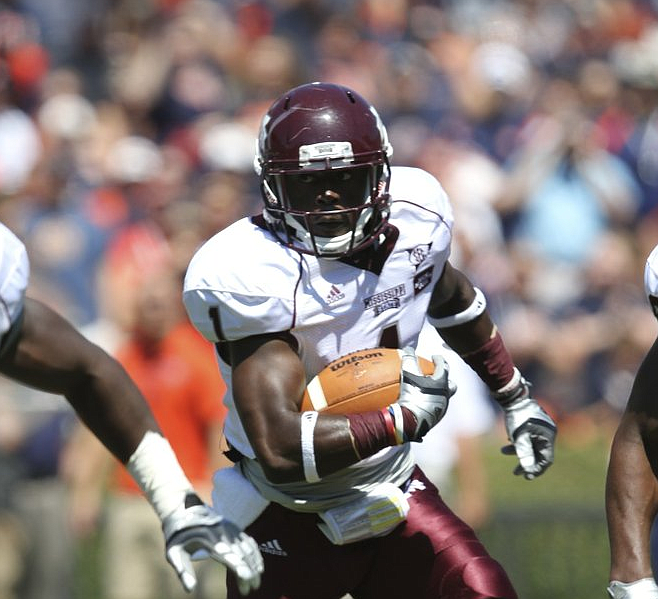 Originally published October 10, 2012 at 11:45 a.m., updated October 10, 2012 at 2:18 p.m.
At the midway point of the college football season, some fan bases want the season to never end (mainly in Starkville), while others can't wait for it to be over (Hattiesburg).
Mississippi State didn't need to be sharp on offense against Kentucky. The Bulldog defense easily controlled a young and injury-plagued Wildcats team.
Tyler Russell threw for 269 yards and two touchdowns as MSU moved to 5-0 with a 27-14 win over Kentucky. Chad Bumphis broke the Mississippi State record for 
touchdown receptions with 18 (and counting) in his career. The Bulldogs' defense has been very good in nearly every game, but the offense was, again, sluggish at times. MSU was the first team this season that failed to score at least 30 points on Kentucky.
Stat geeks, taking over football like they have in baseball, preach that teams shouldn't punt. Just don't ask Ole Miss fans if they believe what the stats say after their Saturday night loss to Texas A&M.
The Rebels forced six turnovers and held a 10-point lead midway through the fourth quarter. That is, until redshirt freshman quarterback Johnny Manziel rallied the Aggies to a 30-27 win.
Ole Miss (3-3) will wonder what might have been if Head Coach Hugh Freeze hadn't decided to go for it on fourth down and one at his own 39-yard line. The Rebels' running back was stuffed, and Texas A&M scored the winning touchdown a few plays later.
No rain equaled no chance for Southern Miss (0-5) against Boise State. The Broncos grabbed a 23-0 halftime lead and cruised to a 40-14 win.
The only thing left to watch for in the USM season is if they can avoid losing two more games, and escape their first losing season in 19 years. Southern Miss has suffered through a coaching change-up and injuries that have killed 
this season.
Jackson State continued with their up and down SWAC play. JSU allowed Arkansas-Pine Bluff to race out to a 21-7 lead in the first half, and the Tigers were never able to catch up. Jackson State rallied somewhat to cut the Golden Lions' lead to 27-24 early in the fourth quarter but couldn't keep UAPB out of the end zone. The Tigers (2-4) ended up falling 34-24.
Alcorn State (2-4) finally got its second win of the season. The Braves led Southern University 7-0 at halftime and jumped out to a 14-0 lead in third quarter before the 
Jaguars rallied.
Southern tied the game at 14-14 as the third quarter ended and took a 17-14 lead early in the fourth quarter. Give Alcorn State major credit for not folding and scoring with seconds left to pull out the 20-17 victory.
Mississippi Valley State (1-4) was taken behind the woodshed in a 35-0 loss to the best team in the SWAC, Alabama A&M. The Delta Devils were down 21-0 at halftime 
and never recovered.
Delta State entered the fourth quarter down 28-15 to Tarleton University. The Statesmen outscored their opponent 23-7 in the final 15 minutes to pull out a 38-35 victory. The win moved DSU to 2-3 on the season.
Millsaps (4-1) finally played a bad game on defense, and it cost them their undefeated season. The Majors couldn't stop Huntingdon, and the team fell 45-24 at home. The road-weary Majors, who had played three straight on the road, gave up 404 yards on defense and missed chances on offense despite gaining 430 yards.
Mississippi College (1-4) made history in a bad way Saturday. The Choctaws' 75-42 loss to Sul Ross became the highest-scoring game in MC history. Mississippi College couldn't get stops on defense all day.
Hinds Community College (3-3) broke a three-game losing streak with a 38-14 
victory over Southwest. Holmes Community College had a three-game winning 
streak snapped with a 35-0 loss to East Mississippi on their Scooba campus.