Wednesday, October 10, 2012
Document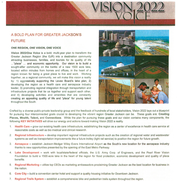 JACKSON — The Greater Jackson Chamber Partnership and community leaders unveiled the Vision 2022 10-year plan at the Jackson Convention Complex Oct. 9.
At the end of the presentation, the Greater Jackson Chamber Partnership awarded the Pearl River Vision Foundation $200,000 to finalize plans for the proposed lake project near downtown Jackson.
Along with the lake, the plan includes large expansions in the healthcare and aerospace industries, education improvements, a focus on arts and culture and infrastructure and transportation improvements throughout the metro area.