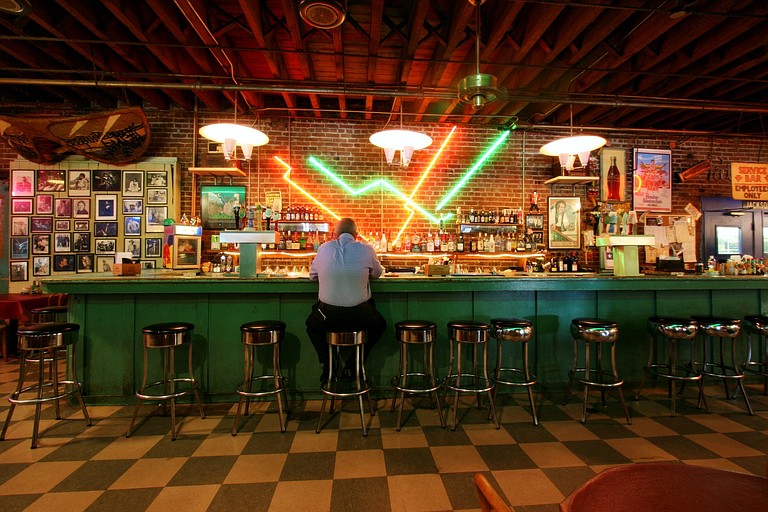 Wednesday, October 10, 2012
It's the weekend in Jackson, and you're looking for something to do. Unlike many southeastern metropolises, our capital city doesn't have a nightlife center like the French Quarter in New Orleans or Beale Street in Memphis.
Throughout the city, however, there are entertainment options for all ages, tastes and styles. From an Irish pub to live rock 'n' roll venues, from jazz clubs and the city's only open-till-breakfast blues joint to a hot new upscale lounge, Jacksonians need only search the Jackson Free Press event listings to find just the place to relax, party, head bang, dance or just sip on their favorite beverage without leaving the city limits.
Look for more venue spotlights in the music pages in the coming weeks, and email [email protected] to suggest your venue.
Hal and Mal's breathes life into Downtown
In the late 1970s, when Malcolm White moved to Jackson, there was little do downtown, and no one living there to do it.
White, now the executive director of the Mississippi Arts Commission, managed and booked acts for some restaurant/bars in the city in the early 1980s, including George Street Grocery (now Ole Tavern).
White opened a nightlife spot in the former GM&O Freight Depot building off State Street, under the name The Lamar, after the old Lamar Theater, which the Jackson Redevelopment authority bought and demolished in the 1980s to make way for the One Jackson Place building.
The Lamar was a college bar, open on Wednesday and Saturday evenings. It quickly became popular, but the federal government soon rained on the parade.
In 1986, under pressure from the U.S. government, the state raised the legal drinking age from 18 to 21. White said the change killed The Lamar, because most college students couldn't buy alcohol legally anymore.
White still held the lease for the building, though, and soon after his brother Harold "Hal" White returned to Jackson to open Hal and Mal's with him. In its early years, Hal & Mal's made its name as one of the city's best live music venues and eventually became the premier live music venue downtown and even in the state, bringing in acts from a variety of genres from all over the country.
"We opened on a shoestring budget, and we didn't have to borrow," Malcolm White told the Jackson Free Press.
Malcolm lived in an apartment at the restaurant/bar when it first opened. At the time, the only people living in downtown Jackson were he and the governor and their families, White said.
Then, in 1988, the federal government hit Hal & Mal's hard by passing the national Indian Gaming Regulatory Act, which allowed casinos on Indian reservations across the country. The state of Mississippi followed by passing the Mississippi Gaming Control Act, allowing casinos in counties along the Mississippi River and the Gulf Coast.
Suddenly, Hal and Mal's was no longer the state's best venue for traveling bands. The casinos could offer bands three times what the White brothers could, and Hal & Mal's began to find it much more difficult to book the more well-known acts.
The White brothers never closed their doors, though.
"We had a plan. It's a family business," Malcolm White said. "We've maintained a quality product. We've always served good food. We were able to adapt."
In the 1990s, Hal & Mal's tried a new venture, opening its own brewery at the restaurant. White said the fad of microbreweries was a long way from catching on in Mississippi at the time. After several years of brewing, and little success from it, Hal & Mal's closed its brewery.
"We got in the brewery business 10 years too early and got out five years too soon," White said.
Today, Hal & Mal's still hosts live music three to five nights a week in one the venue's four spaces — the big room, the red room, the dining room and the courtyard. It also serves some of the city's most beloved food and any drink a patron can imagine.
As for the Farish Street district, Malcolm White is not worried about it taking customers from Hal & Mal's.
"I live in reality. I live in the present," White said. "(Farish Street) is never going to be a Beale Street. At very best, it can be an entertainment cluster of 10 to 15 similar businesses. It can't put (us) out of business."
New ISH finds Empty Niche
Michael Johnson is a hairstylist by training and trade. The Jackson native has operated Work of Art Salon at 333 North Mart Plaza for 17 years. Now he is applying his trained hand and high-end taste in the nightlife business.
Johnson created ISH, an upscale restaurant, bar and lounge on the floor above the salon on North Mart Plaza. Still in its infancy, Johnson hopes to have ISH open Tuesday through Friday for lunch from 11 a.m. to 2 p.m., dinner from 5 to 10 p.m., and as a bar and lounge from 10 p.m. until closing Wednesdays through Fridays. It will also be open for private parties and events on Saturdays.
ISH will feature a variety of music with a single unifying factor: its acts will cater to its crowd. From live jazz, blues, R&B and soul acts to DJs and the occasional owner's playlist coming through the speakers, Johnson said patrons will always find something different to listen to at the second-story lounge.
The leather love seats, dark wooden tables and elegant lighting give a ISH a cool, calm atmosphere. That is exactly what Johnson said he is hoping for.
"I saw the need of mature and professional people wanting somewhere to go that was upscale," Johnson told the JFP. "Normally, there's nowhere for adult people to go and really for people to, what I say is, 'keep it on the level.' That's what I'm trying to do right now, is set the bar kind of high."
ISH will enforce the upscale atmosphere with a "dressy casual" dress code. Johnson doesn't allow ball caps, t-shirts, athletic shorts or tennis or basketball shoes inside.
At night, the food will be high-end as well. Tony Cole and Chef Damien will run the kitchen and offer dishes like steaks and shrimp and grits.
Johnson is hoping that his salon clientele will spread the word that his sophisticated salon now has a restaurant and lounge to match.
Frank Jones Corner: So late, it's early
The entertainment district on Farish Street may still be just a dream, but there is one blues club at the corner of Farish and Griffith Streets that becomes a reality every weekend, just as soon as the rest of the city closes.
F. Jones Corner is currently Farish Street's only live blues bar. The street was once the center of African American music and nightlife in the city, and F. Jones Corner was a big part of it as far back as the 1950s. Like almost everything on the street, though, it closed and was left to disrepair.
In 2009, Daniel Dillon and Adam Hayes teamed up to bring back F. Jones Corner and nightlife on Farish Street.
"We wanted there to be a place that was historically accurate to the blues bar in Mississippi and what that means," Dillon told the JFP. "There's a lot of stuff to be proud of in Mississippi, and one of them is our blues scene."
In 2004, the City Council awarded Farish Street resort status. That designation allows F. Jones Corner to stay open and serve alcohol 24 hours a day, which has made F. Jones Corner the city's go-to spot when all the other bars have to close shop at 2 a.m.
Dillon and Hayes originally opened the venue with hopes of having it open for lunch and dinner, but the lack of traffic on the street forced them to narrow down their hours and find their time slot in Jacksonian's nightlife. Now, they are open Thursdays through Saturdays from 10 p.m. until 5 a.m.
Dillon said F. Jones Corner is trying to get patrons in before the other bars close, though.
"It's a $10 cover after midnight, but no cover before midnight," Dillon said.
F. Jones Corner's busy hours will likely change drastically if the Farish Street district finally comes to fruition around it. If that happens, Dillon said F. Jones Corner will stand out from the rest of the street.
"We plan on being the truth," Dillon said. "We could be surrounded by outsourced management and outsourced bars and things that aren't indicative of Jackson and Mississippi, but we're going to maintain the truth. We consider ourself the truth on Farish Street."
Hal & Mal's has been pouring drinks, serving food and rocking to live music for almost 30 years.