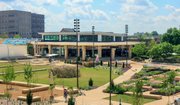 Today, the Mississippi Minority Business Alliance Awards Gala is from 6-8 p.m. at Hilton Jackson (1001 E. County Line Road). Tickets are $125; call 601-965-0366. The Millsaps Singers perform at 7:30 p.m. at Millsaps College (1701 N. State St.). The event is free; call 601-974-1422. Need more options? See our Best Bets.
On Saturday, the 4 the Record Swap is from 10 a.m.-6 p.m. at North Midtown Arts Center (121 Millsaps Ave.). Normal admission is $2 ($5 early bird), $25 for vendors (must register), and children under 12 get in free; for information visit 4therecordswap.com. The Mississippi Museum of Art's (380 S. Lamar St.) Town Creek Arts Festival, a JFP-sponsored event, is at 10 a.m. The event is free; call 601-960-1515. The Euro Fest Auto and Motorcycle Show is from 10 a.m.-6 p.m. at Renaissance (1000 Highland Colony Parkway, Ridgeland). The event is free; for information visit euro-fest.net. The "Tats for Ta-tas" bikini bike and car wash is at 11 a.m. at Eternal Body Art (361 Interstate 55 S.). Benefits breast cancer programs. $10 for bikes and $20 for cars and trucks; call 601-346-5963. The Mississippi Walk for Diabetes is at 2 p.m. at Southern Farm Bureau (1401 Livingston Lane). Admission is $20 and up; for information visit msdiabetes.org. The Mississippi Funk Summit is at 6 p.m. at Underground 119. The event is for ages 18 and up. Tickets are $15 in advance and $20 at the door; call 800-745-3000. Benjamin Cone III and Worship performs at 6:30 p.m. at Anderson United Methodist Church South (1315 W. McDowell Road). Admission is $10. The Manhattan Short Film Festival is at 7 p.m. at Davis Planetarium (201 E. Pascagoula St.). Tickets are $8; for information visit manhattanshort.com. The Brock McGuire Band performs at 7 p.m. at St. Richard Catholic Church (1242 Lynwood Drive). Benefits local sobriety houses. Tickets are $10-$15; call 601-946-0578. Mississippi Witness Cancer Survivors' Project's Pink Ribbon Gala is at 7 p.m. at Regency Hotel. Tickets are $50; call 601-576-7466 or 601-316-7091. Nameless Open-mic is at 9 p.m. at Suite 106. Admission is $5, $3 to perform. For more events, check out the JFP Events Calendar.
On Sunday, the Jackson Jamboree is from 1-6 p.m. at Spencer Perkins Center (1831 Robinson St.). Switchfoot, the Mississippi Mass Choir, Dathan Thigpen and Vernon Moore perform. Tickets are $7 or $5 for children 12 and under; call 601-354-1563. The GenerationNXT Indie Concert Series is at Dreamz JXN. Also, be sure to take some time to support a local restaurant such as Bon Ami, Two Sisters Kitchen, Julep, Cool Al's, or Cerami's. If you want more dining options, see JFP Restaurant Listings and the Menu Guide.
Is something missing? To make sure your event is listed on the JFP calendars, send the information to [email protected] or [email protected], or add your event yourself. It's easy!
More like this story