Wednesday, October 3, 2012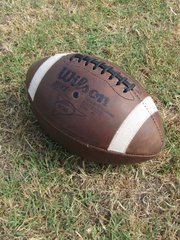 Another undefeated team lost last week, when Stanford went down to Washington. West Virginia put on a show against Baylor in a game where defense was optional. 'Bama has a bye this week, but the SEC will have all eyes on the conference with two JFP Top 25 teams in the top 10 matchups. LSU faces Florida in the Swamp, and Georgia travels to Columbia to take on South Carolina.
The best chance right now of a non-SEC national title is Oregon in the PAC-12 or Florida State out of the ACC.
Rank/Team/Record/Previous Rank
1 Alabama Crimson Tide 5-0 1
2 LSU Tigers 5-0 2
3 Oregon Ducks 5-0 3
4 Georgia Bulldogs 5-0 4
5 South Carolina 5-0 5
6 Florida State Seminoles 5-0 6
7 West Virginia Mountaineers 4-0 8
8 Texas Longhorns 4-0 9
9 Florida Gators 4-0 13
10 Kansas State Wildcats 4-0 10
11 USC Trojans 3-1 11
12 TCU Horned Frogs 4-0 12
13 Notre Dame Fighting Irish 4-0 14
14 Stanford Cardinal 3-1 7
15 Oklahoma Sooners 2-1 15
16 Louisville Cardinals 5-0 16
17 Mississippi State Bulldogs 4-0 18
18 Northwestern Wildcats 5-0 22
19 Boise State Broncos 3-1 20
20 Oregon State Beavers 3-0 23
21 Rutgers Scarlet Knights 4-0 24
22 Clemson Tigers 4-1 25
23 Cincinnati Bearcats 3-0 NR
24 Louisiana Tech Bulldogs 4-0 NR
25 Washington Huskies 3-1 NR
Dropped out: Michigan State Spartans, Virginia Tech Hokies and Tennessee Volunteers