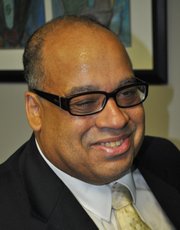 JACKSON, Miss. (AP) — State Rep. Earle Banks says his campaign is not taking money from political action committees as he runs for a state Supreme Court seat, but the campaign of the man he's trying to unseat is accepting contributions from PACs.
Chief Justice Bill Waller Jr. says it's legal for PACs to give to judicial campaigns, but he doesn't know if he has received the contributions because others are handling his finances.
Banks and Waller, both from Jackson, face off in the Nov. 6 election for an eight-year term that begins in January 2014. They spoke Monday at a forum hosted by Mississippi State University's Stennis Institute of Government and the Capitol press corps.
"Now, I can't get any money from PACs, 'cause I think he's got it all," Banks said with a smile as Waller stood nearby at the Capital Club in downtown Jackson.
"With no disrespect, there's a lot of PAC money been going around," Banks said. "And it's not for Earle Banks. And that's fine. Because Earle Banks is going to be the candidate for the people of Mississippi ... blue-collar workers, to everybody whether you're in the ivory tower or whether you're the man on the street, whether construction or whatever. I will be fair in hearing your case before this court."
Waller, who has served on the Supreme Court since 1996, said he has not told his campaign to turn away PAC money.
"The truth of the matter is as long as we have elections, you've got to pay for the elections and contributions is how you do it," Waller said. "So, I don't know how you go about it without making it available to everyone. I'm sure they're following the rules, wherever the limits are that are applicable to it."
Banks was first elected to the state House in 1992, and said he has accepted campaign contributions from PACs for legislative races.
Judicial candidates' next campaign finance reports are due Oct. 10. The most recent reports, filed in July, showed Waller had $71,304 in cash on hand and Banks had $13,840.
The Associated Press confirmed Monday that several PACs were co-chairmen of a $250-per-couple fundraising reception for Waller on Sept. 18 at a home in Jackson's upscale Eastover neighborhood. They included PACs for the state manufacturers, bankers, Realtors, homebuilders, trucking and poultry associations.
Mississippi candidates run without party labels, but Waller has been endorsed by the state Republican Party and Banks has been endorsed by the state Democratic Party.
Asked about those endorsements Monday, both candidates said they want to get all the support they can.
"In fact, I would've been happy to talk to the Democrats, but I didn't get the chance to .... We're in the voting-getting business, and I'm looking for endorsements," Waller said.
Banks said Mississippi's nonpartisan elections are "a farce."
"I had association in the past with the Democratic Party, which I had to remove myself from ... I would've talked to the tea party had I been invited to talk to the tea party," Banks said.
Waller said drug courts save the state millions of dollars a year. Banks said he helped push the legislation creating drug courts.
If Waller is re-elected, he will remain as chief justice because he'll have the most seniority on the court. If Banks is elected, he would not be chief justice.
They're running in the central district, which has 22 counties: Bolivar, Claiborne, Copiah, Hinds, Holmes, Humphreys, Issaquena, Jefferson, Kemper, Lauderdale, Leake, Madison, Neshoba, Newton, Noxubee, Rankin, Scott, Sharkey, Sunflower, Warren, Washington and Yazoo.