Friday, November 30, 2012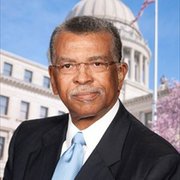 Sen. Bennie Turner, D-West Point, died Tuesday at the University of Mississippi Medical Center in Jackson, at age 64. He had been suffering from a brain tumor.
Turner, a native of West Point, served as Clay County prosecuting attorney before being elected to the District 16 state Senate seat in 1992. Turner's district consisted of Clay County and parts of Lowndes, Oktibbeha and Noxubee counties.
In 1996, then-Lt. Gov. Ronnie Musgrove appointed Turner chairman of the Judiciary Committee. At the time, it was unusual for a member of the Senate to get a major committee assignment after only serving three years. Turner was also the first black senator named to chair one of the chamber's five major committees. He held the position until 2004.
Turner also chaired the Constitution Committee and was chairman of the Ethics Committee at the time of his death.

Sen. Hob Bryan, D-Amory, a longtime colleague and friend of Turner, praised him as a champion of public education. In the 2012 legislative session, Turner opposed a controversial charter school bill presented by Senate Education Chair Gray Tollison, R-Oxford.
"[Turner was] extraordinarily beloved and respected," Bryan said in an interview with the Associated Press. "It's just quite simply he was one of the most respected members of the Legislature,"
Gov. Phil Bryant was also saddened by Turner's death.
"I had the opportunity to work closely with him during my time in the Legislature, and I know the people of his district will miss him," Bryant said in a statement. "Our thoughts and prayers are with his family and loved ones."
Turner's funeral is scheduled for Monday, Dec. 3, in West Point. Services are at 11 a.m. at Third Mount Olive Missionary Baptist Church, with burial in West Point Memorial Gardens. Visitation is 1 p.m. to 6 p.m. Sunday at the Turner and Associates law office on West Main Street in West Point.
Turner is survived by his wife, Edna Walker, and three grown daughters.
The Associated Press contributed to this story.