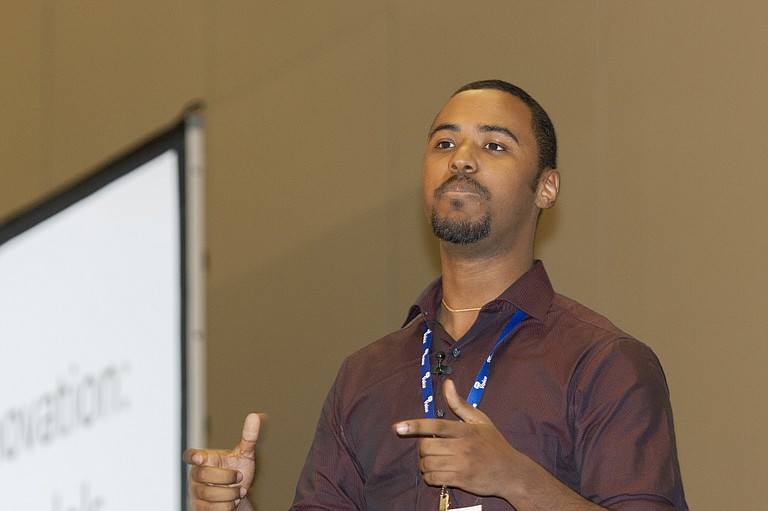 Thursday, November 29, 2012
Black leaders from across the country and nearly all walks of life, including government, education business, community and faith-based organizations and civil rights groups have descended on the capital city.
The 2012 Mississippi Black Leadership Summit began Wednesday at the Jackson Convention Complex. Day One of the three-day event kicked off with the Partnership for Progress Luncheon, followed by three lecture and Q&A sessions with community leaders who are working to transform impoverished neighborhoods in Boston and in the Bronx, N.Y., and the CEO of Evergreen Cooperatives, a nationwide group of locally owned co-ops.
Yorman Nunez, field organizer for the Massachusetts Institute of Technology's Community Innovators Lab, or MIT CoLab, told a dwindling crowd of black leaders during Wednesday's final session about an impoverished and largely malnourished neighborhood in the Bronx that is home to Hunt's Point Cooperative Market, the world's largest food distribution center, and not a single supermarket.
"Chances are, even though you'll be obese or living on the food desert with no access to healthy food, or little access to healthy food, you'll be within in two miles, a mile, from the Hunt's Point food market, the world's largest food distribution center," Nunez told the audience at the Jackson Convention Complex. "We distribute food to 48 states and 55 foreign countries. So there is a real design problem here."
Nunez said the lack of supermarkets is just one of many examples of how the Bronx is great at creating wealth, but nearly all of it leaves the burrow.
That is why community leaders asked MIT CoLab to get involved in the Bronx to help get citizens a voice when development and government leaders discuss future plans. MIT CoLab won what Nunez called "a 15-year fight" against plans to build a shopping mall at the former site of a military armory in the neighborhood.
The mall would only bring low-wage jobs to the burrow, and wouldn't help bring any of the citizens out of poverty, Nunez said. So community organizers fought the mall's developers. The community won the fight. The former armory site still sits vacant.
Nunez and CoLab program manager Nick Iuviene said that after the mall fight, they realized they had to change the way they approached community development. Their current actions were only helping keep community organizations at odds with developers--and government leaders--instead of bringing them together.
The answer, Nunez said, is not to take a needs-based approach in which citizens ask developers to build what they need. Instead, citizens and community leaders should learn to leverage what they have. Taking a systemic approach will make developers desire what the neighborhood already has to offer.
While the Bronx may seem to be a world away from Jackson, Nunez said he believes citizens here can use the same fundamentals in approaching development to bring poorer neighborhoods out of poverty.
The Mississippi Black Leadership Summit continues today and Friday. The Jackson Convention Complex will host more sessions and roundtables with local leaders Thursday. The Hilton Garden Inn downtown will host The Black Party at 7 p.m. Thursday night and participants will wrap up the summit at the hotel Friday with a Power Brokers' Brunch at 8 a.m. and a Legislative Black Caucus planning and strategy meeting at 10:30 a.m.