Wednesday, November 21, 2012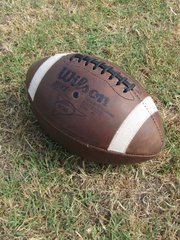 One week after being knocked out of the top spot in the JFP College Football Top 25, upsets of Oregon and Kansas State have returned Alabama to No. 2. The Crimson Tide and Georgia are both headed for the SEC Championship game. Barring upsets this Saturday, the winner of the SEC title game figures to earn a spot in the BCS Championship.
Right now, the SEC's opponent will be Notre Dame, this week's new No. 1 team. But the Fighting Irish face a tough regular-season finale at USC on Saturday.
Rank/ Team/ Record/ Previous Rank
1 Notre Dame Fighting Irish 11-0 3
2 Alabama Crimson Tide 10-1 5
3 Georgia Bulldogs 10-1 4
4 Florida Gators 10-1 6
5 Oregon Ducks 10-1 1
6 Kansas State Wildcats 10-1 2
7 LSU Tigers 9-2 10
8 Stanford Cardinals 9-2 11
9 Texas A&M Aggies 9-2 7
10 Florida State Seminoles 10-1 8
11 Clemson Tigers 10-1 12
12 South Carolina Gamecocks 9-2 9
13 Oklahoma Sooners 8-2 13
14 Nebraska Cornhuskers 9-2 17
15 Texas Longhorns 8-2 22
16 UCLA Bruins 9-2 16
17 Oregon State Beavers 8-2 18
19 Louisville Cardinals 9-1 14
20 Michigan Wolverines 8-3 NR
21 Rutgers Scarlet Knights 9-1 20
23 Kent State Golden Flashes 10-1 23
22 Oklahoma State Cowboys 7-3 NR
23 USC Trojans 7-4 15
24 Louisiana Tech Bulldogs 9-2 19
25 Mississippi State Bulldogs 8-3 NR
Dropped out: Texas Tech Red Raiders, Northern Illinois Huskies, Boise State Broncos