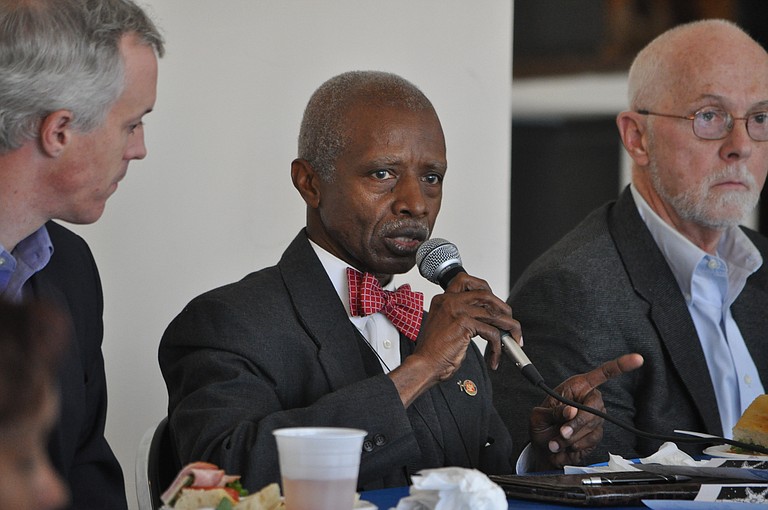 Wednesday, November 21, 2012
Facts? Gov. Phil Bryant don't need no stinking facts when it comes to expanding Medicaid.
In his executive budget recommendation, unveiled at the Capitol last week, Bryant testily drew his umpteenth line in the sand on the question of whether Mississippi should expand eligibility to the federal-state health-care program for the poor allowed under the federal Affordable Care Act.
"Personal principles aside, we just cannot afford to expand the Medicaid program. Regardless of which reports you consult and which actuaries make forecasts, the bottom line will be the same--expanding Medicaid will cost the state of Mississippi money that it does not have," Bryant's budget recommendation states.
Bryant's statement appears to be in response to a flurry of economic reports showing that taking the extra Medicaid funds, which would eventually require millions worth of additional investment on the part of the state, could represent a net gain for Mississippi in terms of improving health in the nation's unhealthiest state and stimulating the state's health-care economy.
An Institutions of Higher Learning report released in October concludes that adopting the Medicaid expansion would create more than 9,100 jobs by 2020, when Obamacare is fully implemented, and give more than 300,000 low-income Mississippians access to health-care services they do not currently have. The ACA would raise the eligible income-levels for the program to 133 percent of the federal poverty level. The federal government would pick up 100 percent of the expansion costs for three years and decrease to 90 percent thereafter when the law is implemented fully.
IHL's survey also estimates the price tag to Mississippi taxpayers would be approximately $109.4 million, substantially less than previous reports--including a report that Bryant often cites. In July, Bryant pointed to a report that Brookfield, Wis.-based Milliman Inc completed during Gov. Haley Barbour's administration that said increasing the Medicaid rolls by 400,000 would irreparably damage the already stressed state budget. The Milliman report found that adding nearly a half-million more people to Medicaid would cost $1.6 billion over the next 10 years.
In the three-ring circus that is the Mississippi Legislature, Medicaid expansion is shaping up to be the main event in the coming legislative session that begins in January. Democrats, who are in the minority in both legislative chambers, are poised to push forward the health-care expansion despite Bryant's plans for more austere Medicaid expenditures.
"One of the things that I find ironic is that he wants to expand ports for boats but not health care for babies," said Sen. Hillman Frazier, D-Jackson, at a recent luncheon sponsored by civic organization Jackson 2000, referring to Bryant's push to spend about $500 million in unused federal housing grants to expand the Port of Gulfport. "Our people are more important than expanding ports for boats."
Bryant's budget otherwise calls for a mixture of budget cuts and tax relief for businesses. Overall, the governor recommends spending $5.8 billion and setting aside about $100 million for emergencies. On average, most state agencies will see their budgets shrink about 1.5 percent, a sum Bryant said is not insurmountable based on his experience as a former state-agency head.
The governor also recommended funding the Mississippi Adequate Education Program, the formula by which the Legislature is supposed to abide, to be level with the current fiscal year, which underfunds MAEP by $260 million. Meanwhile, Bryant wants overall public-education funding to increase by just over $10 million or 0.5 percent more than the current budget year.
While most agencies would see a reduction in Bryant's budget plan, some agencies got a reprieve from cuts or saw big increases.
The Mississippi Highway Patrol would be exempt from cuts and receive an $8.5 million increase for a new trooper school, raises for some troopers and to replace old vehicles. The Mississippi Emergency Management Agency, whose profile former Barbour elevated after Hurricane Katrina, would get a more than 300 percent increase for disaster relief under Bryant's spending plan, up to $2.7 million next year from $663,780 in fiscal 2013. Bryant's budget also increases the Mississippi Department of Corrections budget by $24.8 million, an 8 percent increase.
"We must send a message to the lawless," said Bryant, who justified the additional expenditure by saying the state's inmate population is increasing. MDOC's daily inmate population reflects that the state's prison population has risen from 21,397 on Jan. 1 to 22,261 at the beginning of November but remains well under the system's 25,691-bed capacity.
Criminal justice experts argue that the health-care overhaul could further reduce the amount government agencies spend on prisons. The National Institute on Drug Abuse, estimates that for every dollar spent on substance abuse treatment programs, taxpayers save between $4 and $7 in incarceration costs.
"Making treatment available to prisoners, ex-cons and those in danger of becoming either has been shown to have a marked impact on criminal behavior. Reports from around the country indicate that increased admissions to drug treatment are associated with fewer arrests, reduced incarceration and lower recidivism," Rachel E. Barkow and David B. Edwards with the Center on the Administration of Criminal Law at NYU School of Law opined in a 2010 Wall Street Journal op-ed.
Bryant's budget wasn't all slashing and burning. It also contained a gift to some 1,700 businesses in the form of changing the way taxes are collected. Current law requires some businesses to pay some taxes early, at the close of the fiscal year. Bryant wants to do away with the accelerated tax, which he said would provide relief to 67 percent of small businesses.
The Legislature convenes from January to April in 2013 and must pass a budget before the start of the 2014 fiscal year next summer.