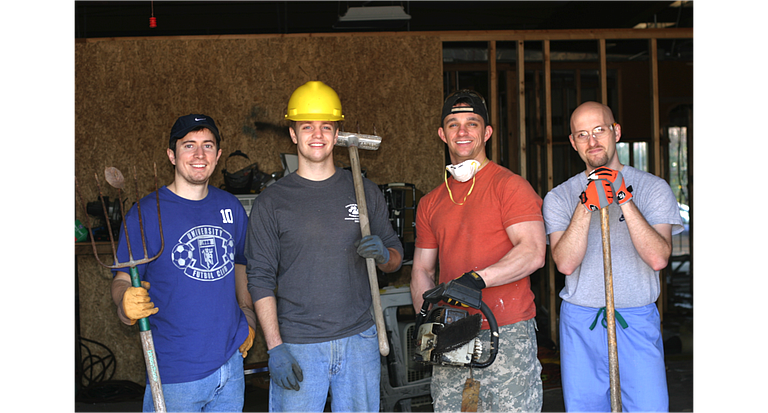 Monday, November 19, 2012
The Jackson Free Clinic serves the community in a dual role: First, the clinic volunteers see adult patients that don't have health insurance, giving people an option other than an emergency room visit for their non-critical health needs. Second, under the supervision of experienced doctors, the clinic provides a training ground for the volunteer medical students from the University of Mississippi Medical Center.
The first few years of medical school consists mostly of classroom learning, so the clinic allows students to get some hands-on experience while serving the public.
"It was a good way to get away from the books for a while and actually treat patients." says Stephen Sills, the JFC's student director. "It's always different from what we learn in the books."
Before his JFC experience, Sills says that he didn't realize how much of practicing medicine deals with what's happening in patients' lives. Many of the people who come to the clinic are unemployed, and depression and stressful family dynamics are factors he wasn't expecting.
"We deal with a lot of different issues at the free clinic," he says.
After several months in temporary quarters on State Street, on Saturday, the clinic held a reopening open house, celebrating renovation and expansion of its permanent facility at 925 Martin Luther King Jr. Drive.
The renewal was a true community effort, Sills says. The Community Fund of Greater Jackson aided the students to coordinate a capital campaign drive, enabling them to reach out to anyone they thought could help, including area physicians. Health Management Associates Inc and UMMC donated a large part of the funds. Jackson-based JBHM Architects donated its planning services, and Fountain Construction provided its building services at cost.
Along with general medical care--including treatment for diabetes, high blood pressure and obesity--the expansion will allow volunteers to provide dental care, physical and occupational therapy, and pharmacy services.
Sills, 25, is a Mississippi native. He was born and reared in Vicksburg, and received his undergraduate degree at Mississippi State University. Now in his fourth year of medical school, Sills has applied to UMMC for his residency in anesthesiology and hopes to stay there; however, he says he's applied to other teaching hospitals as well.
"I like (UMMC) a lot," he says. "The people are great."
Regardless of where he completes his residency, Sills understands the need for medical providers in the state, and he plans to return to Mississippi to practice.
"The state has given so much to me as far as my education and my upbringing, it's something I'd like to come back and contribute to," he says.
The Jackson Free Clinic is open Saturdays from noon until 4 p.m. Patients can make appointments ahead of time by calling 601-355-5161, or they can just stop in. For more information, visit jacksonfreeclinic.com.