Wednesday, November 14, 2012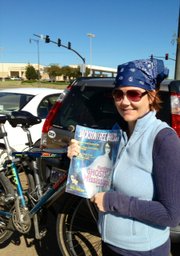 Name: Shellie Zeigler
Location: Just outside the Ridgeland bike trails.
Age: 39
Occupation: Librarian
Lived in Jackson: 3 years
JFP reader for: 3 years
Favorite Jackson moment: Riding my bike early mornings around the Reservoir. 
Last book read: "Ghostman" by Roger Hobbs
Favorite Saying: "It's never too late to become what you might have been." --George Eliot
Why I love cycling: "It's such an awesome sport that challenges you both mentally and physically. I cannot recommend it enough for anyone, regardless of his or her fitness level. It will also whip you into shape pretty quickly."