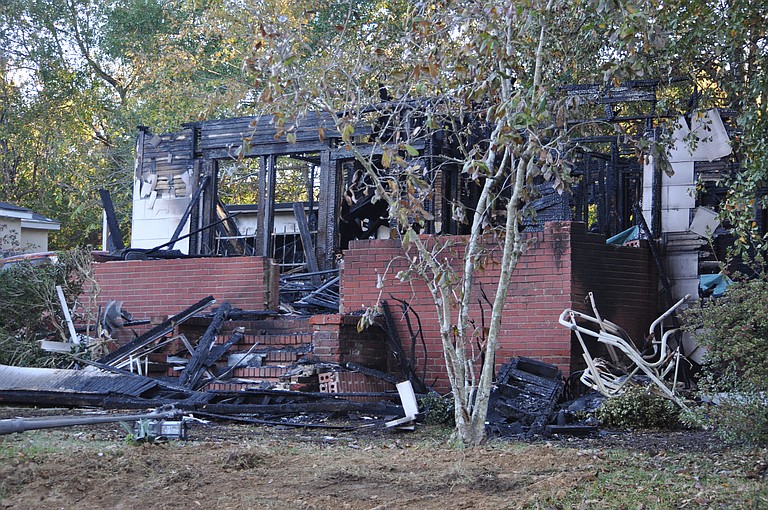 Wednesday, November 14, 2012
JACKSON, Miss. (AP) — Three pilots flying together to a federal safety conference died when their single-engine plane faltered in midair and crashed into a house that went up in flames.
The three men had just taken off from Hawkins Field Airport in Jackson on Tuesday when a witness said the Piper PA-32 began "spitting and sputtering."
The witness, a Jackson police officer, saw the plane sputtering like it was out of fuel, he would later tell the plane's owner — a budding pilot whose own life was spared when he decided to go deer hunting instead of flying. The men on board were headed to a Federal Aviation Administration safety conference less than 30 miles away.
One of the aviators asked for permission to return to the airport, but just minutes later the plane went down. It crashed through trees before slamming into a house that quickly caught fire, sending long flames and black smoke through the neighborhood of modest single-family homes surrounded by magnolia and oak trees.
A deputy fire chief told WJTV-TV that one person escaped the burning home with minor injuries, but it was not immediately clear if anyone else was inside. One patient from the scene was in good condition at University of Mississippi Medical Center, spokesman Jack Mazurak said late Tuesday. He wouldn't give the person's name or gender or the extent of the injuries, citing privacy laws.
The plane was owned by Roger and Michele Latham, from Superior Pallet Company in Flowood, Miss., both of whom showed up at the crash site, along with their grown daughter, Emily Latham.
Emily Latham noted that her father was supposed to have been on board but changed his plans.
"He went hunting," she said. "Thank God."
Michele Latham said all three men on board were pilots. Roger Latham, who is 15 hours short of getting his pilot's license, identified one of the victims as John Edward Tilton Jr., his flight instructor.
"He was one of the finest Christian men I knew," Latham said. "We had three great men who lost their lives," he added. "I just want to wake up in a while and say, 'This didn't happen.'"
Hinds County Coroner Sharon Grisham-Stewart confirmed three people died in the crash. She said dental records or DNA would be needed to confirm their identities.
The plane took off at 5:10 p.m. and shortly after, the pilot asked for permission to return to the airport, according to a news release issued by the Jackson Municipal Airport Authority. It never made it.
The plane had departed Hawkins Field Airport headed for Raymond, Miss., for an FAA safety conference. Latham said his plane had been parked in a hangar for a month and they wanted to take it out for a short flight before he flew it to Gulf Shores, Ala., for Thanksgiving. Latham said he had owned the plane for 2 1/2 years and described it as being in mint condition.
Latham said a Jackson police officer who was about a block away when the plane was coming down told him "it was spitting and sputtering and ... starving for fuel."
It hit trees on the way down, Latham said, adding, "I'm sure John was doing everything he possibly could to save the lives on board."
Vivian Payne, who lives about six blocks from the crash site, said she heard a loud bang that sounded different from an electrical transformer blowing.
"It shook the walls of my house," Payne said.
The National Transportation Safety Board and the FAA were investigating.