Thursday, November 8, 2012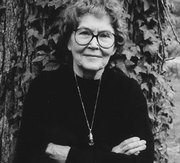 Mississippi native and author Ellen Douglas died today at age 91 from an extended illness. She will be buried in her native Natchez. State Rep. Steve Holland is directing arrangements for Douglas' funeral. As of this afternoon Holland's office said that no definite plans have been made yet regarding a date or specific location.
Douglas, whose real name was Josephine Ayres Haxton but wrote under a pen name to protect her family's privacy, was the author of 11 books, including six novels and several collections of short stories and essays. Some of her most well-known writings include "Truth: Four Stories I Am Finally Old Enough to Tell," "The Rock Cried Out," "Black Cloud, White Cloud: Two Novellas and Two Stories," and "Apostles of Light, which was a national Book Award nominee.
"She was one of Mississippi's treasures," Marion Barnwell, a friend of Douglas and fellow Mississippi writer, told the Jackson Free Press. "She was a remarkable writer who understood human nature. She was very contemporary in her themes, which often involved race, the generation gap, isolation and the problems of the elderly. I think she was especially good at character-driven novels. She told hard truths. She also had a very strong perception of race relations. One of her first stories, 'Hold On,' (showed that especially well). She was ahead of her time in many ways when she wrote that story."
"She was a person that reflected in a straightforward way the life of Mississippi in our own time," Peggie Prenshaw, Humanities Scholar in Residence at Millsaps College and another friend of Douglas, told the JFP. "She had no patience with sentimentalism or a sentimental notion of Mississippi's past. She had a great deal of moral courage in what she wrote about. "Black Cloud, White Cloud," is incredibly honest in the portrayal of black and white women's relationships in Mississippi."
In many ways, Douglas was an experimental writer. Prenshaw said Douglas would depict herself, the writer of her stories, as someone who didn't know what the ending would be. Prenshaw said that Douglas would almost seem to be trying to warn the reader that they couldn't completely trust her and that she had limits.
"In 'Truth' she says she doesn't remember everything but that she is trying to tell the truth of it," Prenshaw said. "She says you will always be re-imagining the past."
"She was a charming woman, very witty; there was no pretense about her. She was a very interesting person to be around. I will miss her so. She had come several times to my house even when she was ill. She was a delightful and wonderful companion to spend time with."
"A wide and caring reflection of Mississippi's life in the latter part of the 20th century is the legacy she has left behind."
Be sure to read this article for more information on Ellen Douglas and her works.