Wednesday, November 7, 2012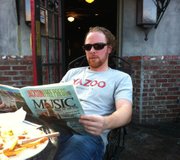 Name: John Ingram
Location: Que Sera Sera patio
Age: 32
Occupation: Bar Manager and Assistant Manager at Parlor Market
Best Part of Job: "Getting to know my clientele on a personal level and also getting to experiment in coming up with new cocktails."
Lived in Jackson how long: "Most of my life except for college (Mississippi State, and I did the six-year plan)."
Reader of the JFP how long: "As long as I can remember. I guess ever since I moved back from college."
Last book read: "Vintage Spirits and Forgotten Cocktails" by Ted Haigh
Favorite quotation: "Rock it Out!"—Craig Noone