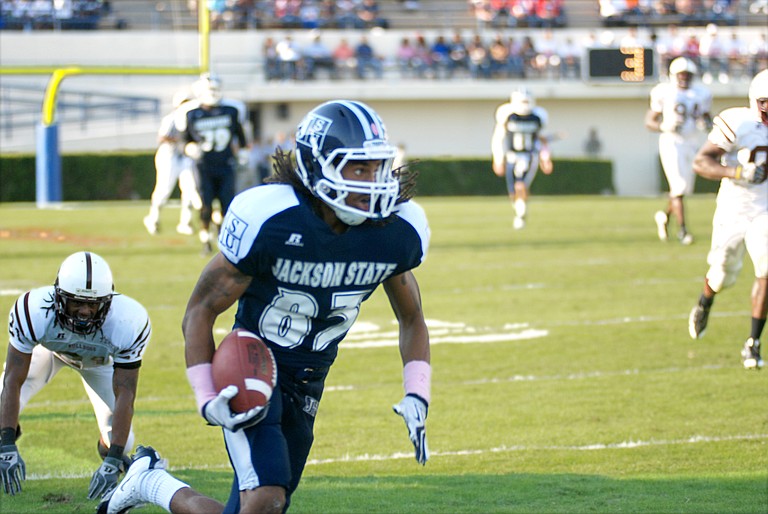 Wednesday, November 7, 2012
It was a rough week for the three FBS (Football Bowl Subdivision) college football teams in Mississippi. Two suffered blowout losses, and one had a massive second-half letdown.
It was tough to watch all three games on Saturday because I want to see every Mississippi school do well and have great seasons. I wonder if A&M alum Todd Stauffer was doing a happy dance in a room by himself somewhere Saturday afternoon unseen by Mississippi State grad Donna Ladd.
Mississippi State (7-2) played its second ranked team in a row, hosting SEC newcomer Texas A&M at home. The Bulldogs' defense couldn't tackle, cover receivers or stop Johnny Football (aka Aggies quarterback Johnny Manziel).
Texas A&M steamrolled to a 24-0 halftime lead and never looked back against MSU for a 38-13 win. The Aggies did whatever they wanted on offense for 693 yards with Manziel having 311 yards passing and adding 129 yards on the ground.
Ole Miss (5-4) was looking for its sixth win to become bowl-eligible against Georgia between the hedges in Athens. The Rebels were looking good in the first half leading 10-7 very late in the second quarter.
Georgia quarterback Aaron Murray took a snap right before half and scrambled in the pocket before finding Tavarres King for a 40-yard touchdown to give the Bulldogs a
14-10 halftime lead. The Rebels never seemed to recover after giving up the late touchdown. Ole Miss fell 37-10 as the Georgia defense clamped down the Rebels offense in the second half.
If you went outside around 9 p.m. Saturday and listened closely, you could hear a loud hacking sound. That sound was coming from Hattiesburg as Southern Miss (0-9) coughed up a 16-0 halftime lead to UAB.
It looked like the night had finally come for the Golden Eagles to get their first win this season, but USM only managed a field goal in the second half while the Blazers outscored them 27-3 in final half for a 27-19 win.
Has there ever been a bigger non-scandal fall from grace—from conference champions to conference chumps—like there has been at the University of Southern Mississippi this season?
JSU (5-4) wasted little time beating up on SWAC rival Grambling State. JSU jumped out to a 32-3 halftime lead and never looked back.
Jackson State is a game away from first place in the SWAC East after its 53-17 win over Grambling State. Jackson State is on track to play in the conference championship game after starting 2-4 halfway through the season.
Mississippi Valley State (3-6) took Alcorn State (3-6) behind the woodshed this weekend. The Delta Devils broke their five game losing streak to with a 33-9 win.
MSVU has been very competitive this season, even though it has not shown up always in the win column. Alcorn struggled at times but seems to be on the right track.
A tough season in Cleveland got tougher on Saturday for Delta State (3-6) after a 33-18 loss to the University of Indianapolis. The Statesmen are on a three game losing streak with one more game left this season.
Millsaps (7-2) got back to winning this week after holding on at home for a 36-34 win over Austin College. The Majors can finish undefeated in conference play with a win this Saturday over Birmingham-Southern.
No one has closed the season better than Belhaven (6-4) this year. The Blazers started the season 2-4 but have won their last four after their 24-14 win over University
of Pikeville. A win in its final game of the season against Bethel University could result in a playoff berth for Belhaven. No matter how the game end this Saturday, Blazers are assured a winning season in 2012.
Mississippi College (2-7) dropped its final home game of the season in a 70-28 rout to Louisiana College. The Choctaws season will come to an end this Saturday against Mary Hardin-Baylor.