Wednesday, November 7, 2012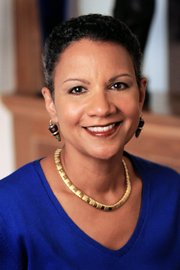 A'Lelia Bundles truly has a beautiful heritage.
Bundles is president of Madam Walker/A'Lelia Walker Family Archives and author of "On Her Own ground: The life and times of Madam C.J. Walker" (Scribner, 2002 reprint, $17.99). She is the great-great granddaughter of the late Madam C.J. Walker (born Sarah Breedlove). Walker was a businesswoman who created an ointment for the dry scalp condition that caused her to bald. Rumors swirl that she also invented the pressing/hot comb and chemical relaxers, but those are just myths.
What is true is that many consider Walker to be the first self-made female African American millionaire, paving the way for many more women of all races today. It's true that she overcame the odds to success in a time when that seemed near impossible. A'Lelia continues to grow her great-grandmother's legacy.
What does health and beauty mean to you?
Health and beauty go hand and hand. It's about taking care of your mental health as much as your physical health. You have to eat right and exercise. I know this is so cliché, but 'beauty is in the eye of the beholder.' Women all around the world can be so unrealistic when it comes to beauty, but it is much easier to embrace natural beauty. Taking care of self takes time, and there are no shortcuts. I am 60 now, and have gone through all sorts of styles: chemicals, straight, long, and short hair. One must become familiar with their natural hair. There is a real beauty to one's natural hair. I like the texture of my natural hair. I think it's healthy to know what your natural texture is.
I am not a fan of weaves. Weaves can get too out of hand. We have everyday lives—we are not Beyoncé—who has someone to do her hair every five minutes. We don't live on a stage.
We try to adopt unrealistic looks to obtain a certain standard of beauty. I watched "Good Hair" by Chris Rock, and it really bothered me to see women who spent hundreds of dollars on their weaves a month. They had a choice to pay bills or pay for their weaves, and they chose to not pay a bill so that they could pay for their weaves. I feel that if you can afford to spend that kind of money on weaves, then you should be able to invest in a few stocks or start a savings for your child's future.
I am not the hair police. I do believe we should have fun with styles.
How are you able to deliver the story about your great-great grandmother?
Madam C.J. Walker's story has so many different dimensions. I talk to schools including college and elementary, and I talk to businesses about my grandmother's personal transformations, how she was inspired by trying to deal with her own problem. She helped others by employing over thousands of people.
If people have a problem, they have to start by trying to solve that problem. Someone who has a better idea about anything should focus on how to take it to the next level.
What is your purpose at the Walker Family Archives?
First of all, it is not a foundation; it is a collection of photos, clothing and personal artifacts so that I can share information about my great-great grandmother with scholars.
It's a way to preserve documented evidence of African American lives. I feel that people will believe in our history when we have documents to prove what happened. So much of our history has been destroyed, dismissed, or viewed as not important. I believe that when I can touch something that my grandparents touched, I am touching a piece of them.
I am a writer and historian, and having records is really important when proving our contributions to others. Our history has often been erased or denied.
How do you feel about the status of African American women?
We are in an amazing era of time. African American women are running major corporations, they are presidents of those corporations, they are scientists, and they have made a lot of accomplishments.
Many African American women struggle and are having a hard time raising their family. Some do not have good job opportunities or can't help their children receive a good public education.
There has always been a spirit in our community to give the gift of blessing and helping others.
Madam C.J. Walker was a single mother; she was abused. She was able to get help from her church who reached out to her and helped educate her children.
Are you natural?
Right now I am natural. I have been natural most of my adult life, which is about 40 years. I have worn my hair short for 20 years, but decided about two years ago to let my hair grow longer. I guess it's a phase I am going through. I want to see what happens if I let my hair grow out. I have more gray now and want to see what it looks like longer.
I admire women who spend time on making their hair beautiful. There is a huge difference with young women who go natural—they have a wide variety of styles like locks and crowns—I see so many amazing styles on young women. I feel like, with natural hair, we are in a renaissance period with such amazing hair.
Do you think hair is what makes a woman beautiful?
I think that hair that is groomed, clean and healthy is beautiful hair to me. We all feel better if our hair looks the way we want it to look. There are different styles for different women with varying lifestyles. Women who go to the gym and sweat a lot may find that wearing micro-braids is best for them. The two most important things in my opinion is clean and healthy hair.
Do you feel the media or propaganda has a lot to do with how much money African American women spend on their hair?
Advertisement companies and the consumer industry have products to sell. We are a consumer-oriented country. We are all vulnerable and susceptible to that. When mothers comb their daughter's hair everyday, they are giving them a message about their hair. We have a responsibility to think about what images we share with others.
What do you want young, African American women to know about black culture? You?
As African-Americans, we have been involved in helping to build this country. We built the capital, worked in factories, and invented great things. We have contributed to the success of America, and no one can take those contributions away.
I am a writer who loves sharing Madam C.J. Walker's story. I will be working on a biography about her and her daughter's life in Harlem in the 1920s.
Read more: madamcjwalker.com.