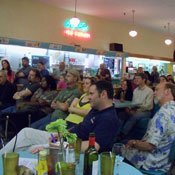 I was dubious about theater performed in a drug store, but I decided to get the full experience of Fondren Theatre Workshop's Playwright Night. I walked into Brent's Drugs to find a cozy, friendly diner complete with teal vinyl booths and a milkshake bar. I sat down in a booth with a great view of the music stands set up for the read-through, and ordered a cheeseburger and fries, discovering that Brent's has great food and service. After the burger, it was time for a small cast to read through a play.
The talented actors that I have seen so far—and I've attended two of the three Playwright Nights—really brought the characters to life. After the plays, the playwright and audience engaged in short, yet enlightening, "talk back" sessions.
On June 5, the play is Bret Kenyon's "Open Mic," which won the Mississippi Theatre Association's playwriting competition in the adult division this year. The play asks if the "most likely to succeed" in the class of 1998 actually has, or if he's a failure like the rest of us.
Fondren Theatre Workshop presents Playwright Night on the first Tuesday of every month at Brent's Drugs (655 Duling Ave., 601-366-3427) where a group of experienced actors read through a new play. Brent's serves food from 6 p.m. until 7 p.m., taking orders until 6:30 p.m. The read-through starts at 7 p.m., and the only cost is the food you purchase.