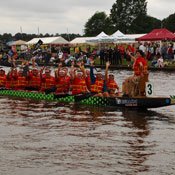 Research shows that low-income youth suffer significantly from a loss of academic skills over the summertime, resulting in losses that contribute to an achievement gap that can make the difference between whether students set out on a path for college or decide to drop out of high school. Saturday, May 19 at 12 p.m., Operation Shoestring and community partners are working against this trend by providing parents and students with fun activities to promote summer reading at the Jackson Medical Mall (350 W. Woodrow Wilson Ave.), supplying the materials to continue these activities at home throughout the summer, and helping parents and students navigate the JPS Summer Reading Manual. There will be snacks, library card registration, story-telling time, and more. This event is open to the public. For more information, contact Robin Walker at 601-353-6336.
Today, see Kennith Humphrey's artwork at Brown's Fine Art (630 Fondren Place) through May 31. Call 601-982-4844. Greek Fest 2012 kicks off with a drive-thru lunch from 11 a.m.-2:30 p.m. at Holy Trinity St. John the Theologian Greek Orthodox Church (5725 Pear Orchard Road). More activities including music, art and dance. May 19 from 11 a.m.-9 p.m. and May 20 from noon-6 p.m. Free admission, $10 lunch; call 601-355-6325. Guitarist Pierre Bensusan performs at 8 p.m. at Duling Hall; cocktails at 6 p.m. Tickets are $18; call 601-292-7121 or 800-745-3000. The TNA Impact Wrestling World Tour is at 7:30 p.m. at the Jackson Convention Complex. Tickets are $20-$50; call 800-745-3000. Corey Smith and Tyler Reeve perform at 9 p.m. at Hal & Mal's. Cocktails at 7:30 p.m. Tickets are $15 in advance, $20 at the door; call 601-292-7121 or 800-745-3000. Furrows performs at Old Tavern. Need more options? See our Best Bets.
On Saturday, the Madison County Chamber of Commerce's Dragon Boat Regatta is at 9 a.m. at Ross Barnett Reservoir (100 Reservoir Park Road, Brandon). Free for spectators; call 601-605-2554. The opening celebration for the exhibit "Storyland: A Trip Through Childhood Favorites" kicks off at 9 a.m. at Mississippi Children's Museum (2145 Highland Drive); the exhibit hangs through Aug. 26. Admission is $8, children under 12 and members get in free; call 601-981-5469 or 877-793-5437. The Community Foundation of Greater Jackson Fundraiser is 3 p.m. at Hal & Mal's Red Room. Proceeds benefit the Ace McNeely Music Fund. Tickets are $15; call 601-497-1754. Symphony on the Square is at 6 p.m. at Canton Historic Square on the courthouse lawn. The event is free; call 800-844-3369. The roller derby bout between the Magnolia Roller Vixens and the Crescent Wenches is at 7 p.m. at the Jackson Convention Complex. Tickets are $12 in advance, $15 at the door and $5 for children; email [e-mail missing]. The Mississippi Community Symphonic Band and the Mississippi Swing perform at 7 p.m. at Belhaven University Center for the Arts. The event is free; call 601-605-2786. The Nameless Open-mic is at 9 p.m. at Suite 106. $5 admission, $3 to perform; call 601-720-4640. Flowtribe plays at Martin's. For more events, check out the JFP Events Calendar.
On Sunday, Cajun Fest kicks off at noon at St. Francis of Assisi Catholic Church (4000 W. Tidewater Lane, Madison). Free admission; call 601-919-3656. The "Wined and Blind" Wine Tasting is at 4 p.m. at BRAVO! (4500 Interstate 55 N.). Admission is $40; call 601-982-8111 to RSVP. Classical singer Tiffany Williams performs at 6 p.m. at New Zion M.B. Church (233 Cottonwood Drive). Donations welcome; call 601-906-0823. The Blind Boys of Alabama perform at 8 p.m. at Duling Hall. Cocktails at 6:30 p.m. Tickets are $44.50 in advance and $50 at the door; call 601-292-7121 or 800-745-3000. Also, be sure to take some time to support a local restaurant such as Bon Ami, Two Sisters Kitchen, Julep, Cool Al's, or Cerami's. If you want more dining options, see
JFP Restaurant Listings and the Menu Guide.
Is something missing? To make sure your event is listed on the JFP calendars, send the information to [e-mail missing] or [e-mail missing], or add your event yourself. It's easy!
More like this story