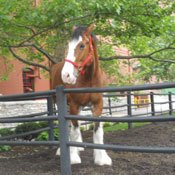 It happens. Sometimes, a girl about town needs to get away. Also, sometimes she's dating a person who really, really wants to see Van Halen on tour. In my case, the two combined to result in a weekend road trip to St. Louis, Mo.
Some habits die hard, so even when out of Jackson, I like to stay in the middle of things, which is to say, downtown. The weekend away was a perfect chance to experience another city, and get some ideas to bring back home, naturally.
A Saturday afternoon departure meant that after checking in and cleaning up, we were perfectly timed for a night of cocktails and some late-night nosh, so we headed to lola., a restaurant and bar with a good reputation for both. When we arrived, a jazz band that included not only brass, but also bongo drums (a nice touch) was onstage, and the place was full of folks in their Saturday night best.
Snagging a high-top table for two by the window provided a perfect perch from which to people-watch—both inside and outside the bar.
As I nibbled on crab cakes and sipped on my Absinthe and Champagne cocktail, and my companion enjoyed some chicken and waffles (because what else would you want at 11:30 at night?) And some brown liquor, I started taking mental notes: Outside, the public transportation was still running, even at midnight. The valet service was super-busy. Lots of people were walking up and down the street. And the crowd in the club was a good mix of races and ages, all well-dressed (if not a little heavy on the animal print for my taste) and well-behaved.
The St. Louis police appeared to make rounds regularly patrolling the area. As the night wore on, a DJ took the stage, and by the time we left, though early morning was approaching, another act came on and new patrons kept arriving.
In addition to loving downtown Jackson because it's my home, and I want to see it grow and prosper, my day job is in development, so any night out includes an element of research, particularly because working on plans for the Farish Street development consumes my days—and excites me. Getting away and seeing another downtown full of activity and life and experiencing entertainment in venues that give me ideas made me return eager to get back to work.
Sure, St. Louis is much bigger than Jackson, and its downtown has things that ours doesn't—notably, a baseball stadium and arena (both the Cardinals and Blues played that weekend, leading to crowds downtown)—but there nonetheless remains such potential here. I know we—the collective "we," all of us working together—can and will make it happen.
The rest of the trip was great: a fun brunch at Rooster (which boasts a killer mimosa and bloody Mary list, plus craft beer) on Sunday, touring the Anheuser-Busch brewery, plus the concert itself.
I'll admit, I personally was more excited about Kool and the Gang, the opening band, than Van Halen, and they did not disappoint. Kool is more than welcome to come play any party I throw; they brought the boogie, and I felt it. Then I put in some earplugs, and Van Halen was fine. I noticed the girl in the couple in front of us did the same thing and felt a sisterly solidarity with her.
But the best part of the trip for me remained being out on a Saturday night in downtown. I often say that making Jackson a better place is what gets me out of bed every morning, and it's always good to be reminded of what I know we can achieve. Driving back into the city on Interstate 55, I felt truly glad to be home again.
As we head into summer, I'm sure many of you have trips and vacations planned. I hope you travel well and have fun, but that you also return with ideas, inspiration, and an appreciation for what Jackson is now and where it's going.
Follow Julie on Twitter @jcskipp.
More like this story