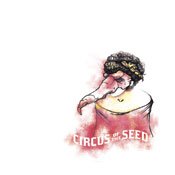 On Circus of the Seed's somber, fan-favorite track, "Rain," vocalist and trumpeter Stephen Phillips sings, "I hope that you can swim so that you don't drown/My broken heart is going to flood this town/You better get lost while you can still be found." A couple of Thursdays ago, Circus of the Seed fans gathered at Morningbell Records in Duling Hall at a listening party celebrating the release of the band's self-titled record, which had been shelved since its recording in 2007.
"It's their lost album," says Cody Cox, owner of Elegant Trainwreck Records, the label responsible for the album's release.
Circus of the Seed was wildly popular with a core base of fans in Jackson during the mid-2000s. They are without doubt my all-time favorite Jackson band, and you will hear many others say the same. The band's mix of jazz, soul, reggae and rock was not forced like with many bands that try to incorporate different genres, but came across as profoundly natural and honest. When they played, you couldn't imagine it sounding any different. It was perfect.
Circus of the Seed is rounded out by Jason Daniel on guitar, Barry Shannon on bass and Jarad Wilson on drums. They create a backdrop for Stephen's singing voice, which I can best describe as a mix between Bob Marley's vocal range and emotionality and Louis Armstrong's timbre. Phillips also plays trumpet in a way that, like the piano playing of Thelonious Monk, is somehow always just perfectly out of tune and time in a way that serves as a flawless commentary on the human condition.
The album is a short-and-sweet six songs that get kicked off with the jazzy jump up of "Homemade Jazz." The rollicking "Woke Up" is the most hopeful track on the album, with Stephen reminding us that "everything little thing is fine." The heart of the album is the 1-2-3 punch of the reggae-infused "Explodable," the laid-back instrumental "Prelude," and the aforementioned "Rain." The record closes with the distorted blues-rocker "Road Dog Blues."
At the listening party, both Jason and Jarad told me, "These are the songs." And they are—these are the songs we went to hear all those dozens of times, which makes listening to the album nostalgic. It felt like 2005 all over again in Morningbell as fans, friends, and family hung out with the band and relived "those intense years, when Jackson was really discovering its creativity," according to Stephen. "Those were the days."
Reliving those days is fun, but for Circus of the Seed, it's all about moving forward. Jason stays busy playing guitar with Jackson heavyweights Furrows and Wooden Finger. Stephen tells me about his life these days practicing trumpet while hanging out with his wife Leslie Susan and their son Tristin Jade, while Jarad's sons run around the hallway outside the record store. There is synchronicity is hearing Stephen's voice sing, "So that I would live to see the golden hour/Sun was beaming down and the earth brings flowers" over the PA in the crescendo of "Rain" while he and Jarad talked to me about their new families.
Circus of the Seed's album is the first in a series of releases for Elegant Trainwreck featuring previously unreleased material. Cody plans on releasing records from Passing Parade and Goodman County, his now-defunct band that played shows consistently with Circus of the Seed back in the day. The label also has plans to drop new full lengths from Liver Mousse, Furrows, and up-and-coming Jackson band That Scoundrel, along with a split 7-inch record featuring Liver Mousse and Ice for Eagles (each band gets one side of a shared 7-inch record).
Things are looking good for Jackson. Past, present and future, our music scene is always strong; it's always the good ol' days.
Buy "Circus of the Seed" at Morningbell Records and Studio (622 Duling St., Suite 212, 769-233-7468) or at http://www.elegant-trainwreck.com for $10.