Wednesday, March 28, 2012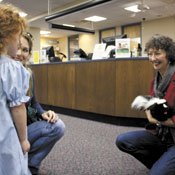 Don't expect to find someone sitting in a chair quietly reading to her audience when you bring your kids to hear stories from Doris F. Jones. Jones puts the books away and uses her voice, puppets, audience members and costumes, as well the imaginations of everyone listening, to bring stories to life.
A former biology major, medical technologist and librarian, Jones found her calling about 20 years ago in humanity's original medium—face-to-face storytelling.
"I didn't really know what I was meant to do until I had my own children and started reading to them. It was like a whole new world opened up," Jones says.
Oral storytelling is probably the oldest form of entertainment in human society. Since the introduction of spoken language, people have entertained, educated and informed with stories, and they passed those tales and fables from generation to generation.
As a storyteller, Jones has entertained and enthralled children and parents across Mississippi with her vibrant, engaging performances. She will perform at the Mississippi Children's Museum on Saturday, March 31, as part of an event to promote literacy and storytelling.
Whether she is telling a story from a classic fable, a new children's book or one of her own original stories, such as "Buster the Bird," Jones is never the only actor in her performances.
"You never know what the audience is going to give you, and I interact very closely with my audience," Jones says. "I will go around and make faces at the children and stuff like that, so I am very much interacting with them. They are in the play."
It is that connection with her audience on a personal level, Jones says, that gives her art form an audience. While televisions and smart phones provide super-fast transfer of information, and movie screens tell stories with big-budget production values, video screens don't provide close human interaction.
"I see a real hunger for connection—human-to-human connection—in our society," Jones says. "Screens do work, but they don't relate well, and we're losing that person-to-person contact. When I go into a school and work with a class, the teachers are really excited about what I'm doing, because a lot of the children I work with don't get a parent reading to them at home."
For new stories, Jones usually goes to the public library in Madison, where she worked in the '90s. She says she knows she has found a story she wants to perform when it just speaks to her. The fun starts for her in finding how to get her audience involved.
"I look in that story for the points of connection—how you can make your audience not just listen, but participate," Jones says. "They get to play with you. And that's a lot of fun."
Jones' performance will begin at 2:30 p.m., March 31, at the Mississippi Children's Museum (2145 Highland Drive, 601-981-5469). Admission is $8, or free for museum members and children under a year old. Visit http://www.mississippichildrensmuseum.com for more information.
More like this story