Wednesday, March 21, 2012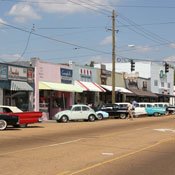 Go west, Jackson—specifically to the west side of State Street between East Mitchell and Duling avenues. Perhaps because crossing busy State Street can be treacherous depending on the time of day, the venerable Jackson businesses that occupy this strip don't receive as nearly the publicity—or customer foot traffic—as their relatively younger counterparts on the other side of the street.
But the west side businesses are full of rich history and characters that have seen Fondren's highs and lows, and, therefore, deserve a little more love.
Blaylock Photography
3017 N. State St., 601-506-6624
Photographer Ron Blaylock is as much an artist as he is a journalist. Blaylock's artwork is on permanent display at the Mississippi Museum for Art and has been featured at the New Orleans Museum of Art. His photojournalism has appeared in The Clarion-Ledger, The Washington Post and Real Simple magazine. Blaylock also teaches photography at Millsaps College and offers private classes and workshops. Visit http://www.blaylockphoto.com for more information.
Bob's Cut and Curls
3015-1/2 N. State St; 601-362-0326
Forty years ago, when Bob Smith opened his barbershop in Fondren, theater-goers so packed the sidewalks you would have to say "please" and "excuse me" when leaving Smith's shop. In that time, Fondren has ebbed and flowed with a series of boom-and-bust cycles, Smith said. A native of Smith County, Smith attended a barber college in Lincoln, Neb., and although he has never bothered to count the number of haircuts he's given, he can tell you that he's barbered clients from 60 different countries. Smith sold the shop last fall to a woman he'd never met before she showed up to inquire about purchasing the business. Still, the door still bears Smith's name, and he maintains a robust clientele from Jackson, around the state and even a handful from out of state.
"I'm not bragging. I'm just stating the facts," Smith said.
Campbell's Bakery
3013 N. State St., 601-362-4628
After years of a revolving door of owners, Mitchell Moore and his business partner Robert Lewis, took ownership of Campbell's Bakery in March 2011. "Somebody needs to love this place for a change," he said of the decision to buy and remodel the 48-year-old bakery. According to Moore, if Campbell's doesn't make it, they don't sell it, meaning that everything—from the icing to the pie shells—is made from scratch. That includes the bakery's top-selling teacake, made from the same recipe as original owner Louis (or Lewis; no one is certain) Campbell. Moore believes the teacakes sustained the business even through Fondren's seedier days. "As long as we do the teacakes, people keep coming back," Moore said.
Castle House Antiques
3009 N. State St., 601-982-5456
Castle House started out as purely a clock shop 42 years ago before expanding into other antiques. Now, it specializes in antique European imports from the 18th through the early 20th centuries with Donnie and Darlene Register handpicking each piece that goes into the store. It will be closing at the end of the month, so hurry in. Visit http://www.castlehouseantiques.com for Castle House's inventory.
Jackson Shoe Rebuilders
3001 N. State St., 601-366-1481
Jackson Shoe Rebuilders takes care of all your leather and fashion needs, from head to toe. Located at the corner of North State Street and East Mitchell Avenue, the business specializes in fixing footwear but also sells men's and women's shoes (and, of course, multicolor shoe polish, shoe horns and leather cleaner) and offers an assortment of hats, neckties, cuff links, billfolds, cologne and purses.
James Patterson Photography
3017 N. State St., 601-918-3232
In his studio on State Street, in a space shared with Ron Blaylock, photographer James Patterson shoots portraits and commercial photography. He is also an editorial photographer for news agencies including Getty Images, The New York Times, The Boston Globe and The Washington Post. He distinguishes the work he does for journalism organizations as different from photojournalism, which he calls the "purest form is how it happens." Editorial photography is more closely aligned with storytelling, he says.
Find Patterson's work at http://www.119gallery.com.
Kolb's Grand Cleaners
933 N. State St.; 601-366-1453
Established in 1926, Kolb's Grand Cleaners moved to its present Fondren location from Amite Street in 1960. Mike and Tina Highfill run the business, which specializes in leather, drapery, wedding gown preservation and large-scale laundry service for medical facilities. Kolb's other locations include Ridgeland, Castlewoods, Byram, Florence and downtown.
Perfect-Fit Alterations
538 Mitchell Ave., 601-362-7829
People just don't go into the alterations business anymore. One might think that means companies like Perfect-Fit Alterations would struggle as a result, but owner Michael Olowo-Ake said the opposite is true: "It's a good business. We don't have enough help to keep up with demand." Olowo-Ake, a native of Nigeria, moved the business to Fondren in 1992 and credits the Fondren Association of Businesses for improving the neighborhood. Perfect-fit not only does alterations, but can also make garments from scratch (prom dresses are a big seller this time of year). Olowo-Ake adds that he's one of the few tailors in town that works with furs. "It's delicate," he said. "You have to know what you are doing."
SE Lock and Key
3003 N. State St., 601-362-0541
"Definitely the areas has picked up a lot," said SE Lock and Key owner Jason Meeks of the more than 15 years he's worked as a locksmith in Fondren. SE Lock and Key's clients range from the guy who locks himself out of his house to sprawling apartment complexes to government agencies. Meeks said he's hoping to remodel the business that cuts keys, changes locks and makes emergency calls around Jackson. He credits neighborhood festivals and other events for the area's renaissance. "The area has everything someone would need," he said. "It's a good time for Fondren."
Wells' Cleaners
3007 N. State St., 601-366-3522
Carol and E.G. Moore have run Wells' Cleaners for 20 years, but the business has been in the family for more than 75 years. Fondren, where the Moores also live, has "changed for the better" in that time, Carol said. The cleaners specializes in archiving wedding dresses, passed down through generations of brides. "On your 50th, you can put it back on and see if it fits," Carol said.