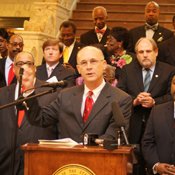 The state may have more money to work with for the next budget year, but early talks about spending priorities suggest that negotiations will be as contentious as ever.
Darren Webb, the state's economist, delivered a cautiously optimistic forecast this week that anticipates $99 million more in revenue in the coming year based on higher than expected tax collections.
 
"While we have avoided a recession and the outlook has improved, the economy remains weak by historical standards," Webb told the Joint Legislative Budget Committee this morning.
 
Under the revised estimate for fiscal year 2013, Mississippi will have a $4.76 billion budget, 1.3 percent more than the previous fiscal year. The JLBC's budget recommendation now stands at $4.76 billion, a 3.5 percent increase over the previous fiscal year.
 
In February, Gov. Phil Bryant unveiled his executive budget recommendation that called for $5.49 billion in spending for fiscal 2013, based on $4.56 billion in projected general fund revenue. Bryant's budget also included 5.35 percent cuts to state agency budgets on average.
The Bryant plan includes level-funding--funding with preset monthly payments and a high amount of information and control--the long-underfunded educational formula known as MAEP using $1.95 billion in state funds and $72.9 million in local reserve funds. Medicaid also would receive funding at the same level as fiscal year 2012 at $763 million, despite the Center for Medicaid Services projection of 36,000 new eligible enrollees in the program this year. The House and Senate Appropriations Committees will begin hammering out the specifics of the budget in the coming days.
 
Despite the good news, Republican lawmakers remained nervous about the tenuous nature of the gains. Rep. John Moore, R-Brandon, asked if Webb's recommendations included the effects that $5-a-gallon gasoline will have on the state economy.
 
Webb's estimate anticipates that the economy will slow down should gas go up another $1.50 a gallon, but he added that the state would only have to grow by 3 percent to meet that estimate.
"I don't know that we're going have $5-a-gallon gas," Webb, the state economist, said.
 
Bracing for a dicey budget negoation, Democrats said they would "draw a line in the sand" to prevent deep cuts to K-12, community colleges and institutions of higher learning.
 
"We won't accept a budget that has one penny less for public education," Sen. Hob Bryan, D-Amory, said.