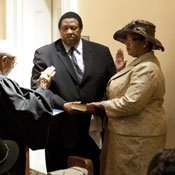 Newly minted Ward 3 Councilwoman LaRita Cooper-Stokes walked into the City Council chambers at City Hall on Friday ready to make changes. The first thing she noticed was that council members' chairs had been rearranged since her last visit.
"It's counter-clockwise. I'm sitting in three. I'm not sitting counter-clockwise. It's been clockwise for years," Cooper-Stokes said of the seats, each marked with a name plaque. From left to right, the order was Ward 7, 6, 4, 5, 2 and 1, with an empty spot for Ward 3 between Councilman Tony Yarber of Ward 6 and Ward 4's Frank Bluntson.
"This means, to me, we're turning back the clock," Cooper-Stokes said. "I won't have any part in this."
Even before Cooper-Stokes' swearing-in, she was causing waves reminiscent of the countless her husband, Kenneth Stokes, sent through City Hall during his 22 years as Ward 3 Councilman.
A fiery divide between Cooper-Stokes and Ward 1 Councilman Quentin Whitwell has become a hot debate. Whitwell told reporters the day before the Feb. 28 Ward 3 runoff election that he had heard of voter intimidation at some of the precincts during the special election Feb. 14. His comment caused an exchange between Cooper-Stokes' husband (now a Hinds County supervisor) and Whitwell in The Clarion-Ledger.
"If I was trying to intimidate him, I'd come knock the (expletive) out of him," Kenneth Stokes told reporters.
"I don't have to make idle threats. A threat would be me putting my foot up his (expletive). That would be a threat."
Whitwell said there is no place for comments like that from public officials.
"His comments are shameful," Whitwell told the Jackson Free Press Friday. "They are an indicator of why we have a drying up population in this city. We need people who want to govern to make Jackson a better city."
Cooper-Stokes' swearing-in speech brought Whitwell's comments about the election back to the forefront.
"After the unprecedented, unlawful and unrepentant interference to the runoff election process by a member of the Jackson City Council representing Ward 1 into the election affairs of Ward 3, LaRita Cooper-Stokes stands before you today as the Councilwoman of Ward 3," Cooper-Stokes told the crowd.
"She got sworn in. She needs to focus on governing," Whitwell said. "I look forward to working with her on the City Council." The councilman defended his earlier statements, saying there was nothing unlawful about them.
"I've never accused any candidate of wrongdoing," he said. "I have a duty, as do all elected officials, to make sure our election commission (is) properly staffed and properly trained. It's well documented that I had problems in my election, and we had irregularities in those (Ward 3 elections)."
Cooper-Stokes claims a reporter told her about Whitwell's statement on Feb. 27.
"It was solely unfounded, and Whitwell is a liar. And he has refused to apologize," she said.
Whitwell is not the only one claiming foul play at the Ward 3 polls. Cooper-Stokes' opponent in the runoff election, Joyce Jackson, filed an official election challenge with the Circuit Court March 2.
"I'm going to contest the entire election because it was too much fraud," Jackson told the JFP earlier. She declined to comment further last Friday, saying only that her legal counsel advised her not to speak with the media before the court hearing.
Jackson told the JFP Tuesday that her lawyer, John Reeves, had until Monday evening to file the appeal, but that to her knowledge, a court date had not been set.
Cooper-Stokes defeated Jackson by 156 votes, double the 78 votes that the Hinds County website reported in its unofficial results on election night.
While Jackson is claiming poll fraud in court, Kenneth Stokes said to supporters at his wife's swearing-in that he made sure the votes weren't tampered with after the election.
"We rode around by the courthouse, trying to make sure they (were) not going to mess with that (ballot) box. And the door was open," Stokes said. "So we tried to shut the door, and we talked with the judge. We said: 'Judge, this courthouse door is open. Would you come lock it?' This is true. And we locked that door. We ain't taking no chances."
Cooper-Stokes said she plans to continue the role her husband played in the City Council. She said he taught her to be accessible, open and honest. "I have learned a lot from being beside my husband all these years," she said.
Several of the councilwoman's supporters spoke after her swearing-in. All used the platform to praise Cooper-Stokes, who has never held public office. Several also took the time to speak less-than favorably about Mayor Harvey Johnson Jr. and the City Council.
Gilbert Sturgis, former at-large member of the Hinds County Planning Board and a community activist, said the mayor, who was in Washington, D.C., for a meeting at the White House, needs to stop bringing items to the council at the 11th hour.
"The mayor is not here," Sturgis said. "The mayor does not work with the City Council, and (Cooper-Stokes) knows that. She knows what she has to do. I'm going to continue to handle this mayor until he decides that the buck stops with this City Council."
Cooper-Stokes told reporters at City Hall on Friday that children will be her first priority as councilwoman.
"I want to work closely with the schools in Ward 3," she said. "I will begin to start to visit the schools and talk with the administrations to see how the City Council, and Ward 3 in particular, can help to keep our children in schools every day."
Cooper-Stokes concluded her speech by stating her support for economic development, calling her ward "greatly advanced compared to other wards."
"Ward 3 is officially open for business," she said.
The councilwoman began her term Monday. The Hinds County Circuit Court could overturn the Feb. 28 election based on Jackson's election appeal, however. In that case, Ward 3 will have to hold a third election.
Until then, Cooper-Stokes is moving forward. "The race in Ward 3 will be run by relay, with God the Father in the first leg, Jesus Christ in the second leg, the Holy Spirit in the third leg, with LaRita Cooper-Stokes running in their footsteps," she said.
Comment at http://www.jfp.ms.
Previous Comments
ID

167204

Comment

anyone, anyone, anyone - comments? comments? comments? Or all of you are just shaking your head and saying in unison, "YES INDEED!" lol!!!!!! Who can really say they are shocked? We knew this was coming and was going to continue.

Author

Duan C.

Date

2012-03-07T12:12:12-06:00
ID

167206

Comment

@ Dawn C. "We knew this was coming and was going to continue." Oh heck NO. One 21 year Clown Show is enough. Mrs. Stokes needs to know that all of this foolish talk and disrespect for the Council will not be tolerated. Mr. Stokes is not an election official. He hasn't any personal right to police the ballots at the Courthouse. Why was he pulling on any door at that building? If there was a problem, real or imagined, the Stokes should have used proper reporting tactics - Not their typical "Two toothless bulls in a China closet technique". Both Stokes are said to be lawyers; however, now the question of their "MS Bar Status" remains a query. Still, these are suppose to be intelligent people. The Council had every right to move the chairs in their chamber. What difference does it make? I have but one thing to say to Mrs. Stokes: Please Mrs. Stokes, Pull off your hat, roll up your sleeves and join the Council: Don't interrupt them. There is much work to be done and where you sit ain't on the "to-do-list".

Author

justjess

Date

2012-03-07T13:14:11-06:00
ID

167207

Comment

"Kenneth Stokes said...that he made sure the votes weren't tampered with after the election." How on earth can Kenneth Stokes make sure that no one is tampering with votes? He has no right to be snooping around voting precients unless he is voting. And Cooper-Stokes, OMG!What a Diva! With that attitude, Jackson is headed for a circus act far worse than the Republican clown show currently playing out across this country. Thank God I don't live in Ward 3! What a mess!

Author

blu_n_a_redstate

Date

2012-03-07T13:26:26-06:00
ID

167210

Comment

Cooper-Stokes concluded her speech by stating her support for economic development, calling her ward "greatly advanced compared to other wards." Did anyone else laugh at this particular comment? What a joke.

Author

Holly Smith 374

Date

2012-03-07T13:49:50-06:00
ID

167214

Comment

Wow. Just... wow. Why do the residents of Ward 3 not see these two Charlatans for what they are?

Author

bill_jackson

Date

2012-03-07T14:37:19-06:00
ID

167215

Comment

Ole Kenny threatening anyone is a joke. Years ago, when He thought that Enoch Sanders was reaching in his pocket for a pistol, Kenny ran out of the council chambers. Luckily no one was in his obese way. But he and his wife represents the poorest ward quite well.

Author

Louie

Date

2012-03-07T14:48:36-06:00
ID

167216

Comment

This entire piece reads like comedy. I laughed from beginning to the end. I don't know where this idea that using diversion as a tactic to handling business comes from. One thing is certain, the Stokes have certainly mastered the art of shuffling attention from what really matters by being defiant and vocally combative. Listen, honestly, at one time I believed that Kenny had the best interest of Jackson (particularly Ward 3) at heart and maybe just didn't have a great balance in how to get things done and work in a cooperative manner. Now, however, after years of embarassing displays of aggressiveness and foolishness, it appears that he's simply interested in personal advancement even at the expense of the people he (they) are representing. It's such a shame too. Because if their passions for the city were as real as they proclaim (out of their own mouths) each of them - individually and collectively - could serve the city well. Unfortunately somewhere along the line their passion has been clouded by the need to be relevant and controversial. Thusly, Jackson suffers and most of us hide in shame from these antics. And I wonder which of the three (God, Jesus or the Holy Spirit) told her that the seating arrangement meant they were "turning back the clock". Seriously?

Author

Queen601

Date

2012-03-07T15:39:02-06:00
ID

167217

Comment

Justjess I have not heard of Kenneth Stokes making the claim to be an attorney, but I do not follow him. There is a LaRita M Cooper listed on the bar site as an active attorney that has been active since 09/13/1985 As for the rest of the article I am a proud Jacksonian, but I am not proud about the level of discourse. This city needs leaders with a vision.

Author

Anders Ferrington

Date

2012-03-07T16:51:58-06:00
ID

167218

Comment

This is a hot mess. Of all the things to come in raising hell about she comes in and gets in a tizzy over the seating arrangement? I voted against her twice...I'm guessing my only option now is to move as far away from Ward 3 as I possibly can.

Author

Marlon Ivy

Date

2012-03-07T16:59:43-06:00
ID

167219

Comment

Well, another option Marlon is to mobilize in the next 12 months and get a candidate to oust her. At least theres that. As for this story..the city has sunk to new lows. Im embarrased. Let me argue with the "white folks" and make big stinks about seating arrangements to mask the fact that you missed your 1st work session as a councilperson (and Im sure not the last smh).

Author

Kamikaze

Date

2012-03-07T18:20:01-06:00
ID

167220

Comment

Personally, I used to appreciate Stokes a *little* in the early years, at least one on one. I could see the connection he had with people in his ward sitting on his front porch with him. He said some things that were true that no one else would say. However, when he became a lapdog for Melton's antics against people right in his own ward, I lost respect for him.

Author

DonnaLadd

Date

2012-03-07T18:59:16-06:00
ID

167221

Comment

" Let me argue with the "white folks" and make big stinks about seating arrangements to mask the fact that you missed your 1st work session as a councilperson (and Im sure not the last smh)." Thanks 'kaze for pointing that out! Queen, I know you are going to get mad at me for saying this, but in the words of the lat great Howard Cosell, "If I see it, I got to say it!" What the **** is up with her and the Sunday Church Hats at council meetings!? Really!? I know ties don't do the work Queen, but thats overkill right there! lol!!!!!!!!!! I know some of y'all are going to be mad at me for saying that, but I'm just keeping it real! I feel like Dap in School Daze, when he was at the KFC and the confratation with Jackson and the crew, thats how I feel right now.

Author

Duan C.

Date

2012-03-07T19:04:50-06:00
ID

167222

Comment

I'm sorry y'all but I got to say this too! But her election alone, along with this conservative wave that has hit our state government, shows just how far our people are out of touch with whats going on around them

Author

Duan C.

Date

2012-03-07T19:10:27-06:00
ID

167224

Comment

Those work sessions that the Stokes keep blowing off are where the council does a lot of its heavy lifting. If folks knew how important those were and how callously the person who is supposed to rep them blows them off perhaps THAT could make some difference *shrugs*. Stokes has led his constituents to believe they arent important and a "waste of his time" maybe we need to explore the "work session" issue and the attendance record of the councilpeople. And Melton was only 4 of those 23 years. His pandering was in effect before that.

Author

Kamikaze

Date

2012-03-07T20:13:50-06:00
ID

167225

Comment

Well after reading the comments its not much left to say. All of y'all are spot on. While I don't live in Ward 3, I have family who do. Needless to say they are not Stokes supporters. I feel so much empathy and sympathy for the denizens of Ward 3. But something's GOT to give. Comedy, Queen? I'm thinking more like a cross between a Greek tragedy and a comedy, maybe a "tragicomedy". I mean, seriously, this would be funny if it was not so d%$n sad. Let's see.....21 year clown show and hot a$$ mess....yep. I agree. Scary thought....don't they have young adult children?? When Diva LaRita gets tired she and Big Ken will convince one of the offspring to run. Just saying....

Author

redlion

Date

2012-03-07T20:39:00-06:00
ID

167228

Comment

Seriously, instead of whining about where she is going to sit. 1. How about removing the cheap 8" x 11" copy paper "Vote Stokes" signs. They are posted on every tree, utility poles, on abandoned houses and abandoned business. Those signs are making the ward look trashy. Take a look around the ward…take into consideration the reasons why home owners and business leave. a) Ward three is not business friendly b) Ward three is not family friendly Examples: It takes less than a week and an empty house is broken into, stripped of anything of value. The doors, windows and window frames are removed to be sold or recycled. What is left becomes an attractive nuisance for the neighborhood children, dogs and the homeless. Finally the shell of the house ends up burned. The burned skeleton then stands for a couple of months or perhaps years and it is torn down. Empty lots become areas for cars, trucks and vans to be repaired. Car parts, oil and any other fluids that belong in a vehicle end up left to soak into the soil or thrown down the storm drain. Add a burning barrel, several bags of unwanted clothes and the newest eyesore of ward three has been created. Flooding of several city blocks due to a drainage ditch being backfilled thus rendering the back yards useless after any kind of rain, not to mention adding greatly to the mosquito population. Crime is an issue, however, no one wants to "get involved" so unless there is a murder the police avoid coming into the area. Council woman Cooper-Stokes drives by all these examples every day. Take off the hat, and take off the blinders and do something deceit for Ward Three.

Author

STMondragon

Date

2012-03-07T23:03:35-06:00
ID

167235

Comment

While I may not disagree with your what you all are saying...but how many of the folks that have posted voted? I voted and it sure as heck wasn't for Cooper-Stokes.

Author

STMondragon

Date

2012-03-08T07:29:31-06:00
ID

167236

Comment

She's a laywer with an active license. He has a law degree. Their daughters are highly intelligent and forward-thinking. I doubt seriously if either is aspiring for that seat but I'm sure that they have higher goals. I grew up in this Ward, and the people of Ward 3 are wonderful and they deserve better..... I was hoping that she might actually govern differently than her husband but I'm not too confident any more. I will say that she does believe in education so I'm hopeful that perhaps in that arena we can work together to accomplish some real change.

Author

833WMaple

Date

2012-03-08T09:51:42-06:00
ID

167238

Comment

@ STMondragon I'm in Ward 1 - with Whitwell, but he's a deadbeat too. I vote in every election I am eligible to vote in

Author

Duan C.

Date

2012-03-08T12:19:15-06:00
ID

167247

Comment

I live in Ward 3 and I voted for Joyce Jackson. My fear about Mrs. Stokes getting the seat was how she could be a female version of her husband and her recent actions proved me right. Fortunately, this is just to fill out the term Kenny left behind, so in just over another year, the voters can turn out this time and get it right.

Author

golden eagle

Date

2012-03-08T16:36:25-06:00
ID

167252

Comment

This is unreal. I salute AG Jim Hood for the fight he fought. Once I knew that "The Governor" had "Executive Privilege" to pardon and he stuck to his story that none of the folks asked to be pardoned. Our Constitution needs a serious overhaul. Too many of the laws work against common sense measures to render the community safe from this kind of BS.

Author

justjess

Date

2012-03-08T22:52:29-06:00
ID

167254

Comment

It's sad, but many of the people (not all of them) in ward 3 voted for Kenneth Stokes because they saw him on TV. He has a BIG mouth, he's from their neighborhood, and he's always headlining MLK marches. Kenneth Stokes is always yelling and cussing folks out on TV, so because of this they think he is getting things done. smh. They, in return, voted for Diva LaRita because she is married to their beloved, loud-mouth celebrity. "If Kenneth can cuss folks out, LaRita will too. Kenneth Stokes is one of us." They say, "and LaRita is too."

Author

blu_n_a_redstate

Date

2012-03-09T09:35:06-06:00
ID

167255

Comment

'This is unreal. I salute AG Jim Hood for the fight he fought. Once I knew that "The Governor" had "Executive Privilege" to pardon and he stuck to his story that none of the folks asked to be pardoned.Our Constitution needs a serious overhaul. Too many of the laws work against common sense measures to render the community safe from this kind of BS.' justjess, I agree, but I think you are on the wrong topic here. We're talking about the lady in the big, Sunday-go-meeting hat. You know, Diva LaRita? She's FIERCE!

Author

blu_n_a_redstate

Date

2012-03-09T09:43:48-06:00
ID

167269

Comment

Thans blu_n_a_redstate. I was on the wrong topic. It was past my bedtime and my eyes were doing STRANGE things. LOL. I made the second blog on the "Diva LaRita" topic. City Hall is in for a long hot summer and anyone can guess what the Fall & Winter sessions are going to be like. Can this go on for one whole year? Just asking.

Author

justjess

Date

2012-03-09T18:35:00-06:00
ID

167344

Comment

It seems that the prevailing sentiment expressed here is, just, wow. I don't have a dog in this as I don't live in Ward 3, Jackson or even Hinds county. But, it seems that Mr. and Mrs. Stokes can give Mr. and Mrs. Blackmon a run for their money on city/county mismanagement...

Author

Darryl

Date

2012-03-14T05:08:32-06:00