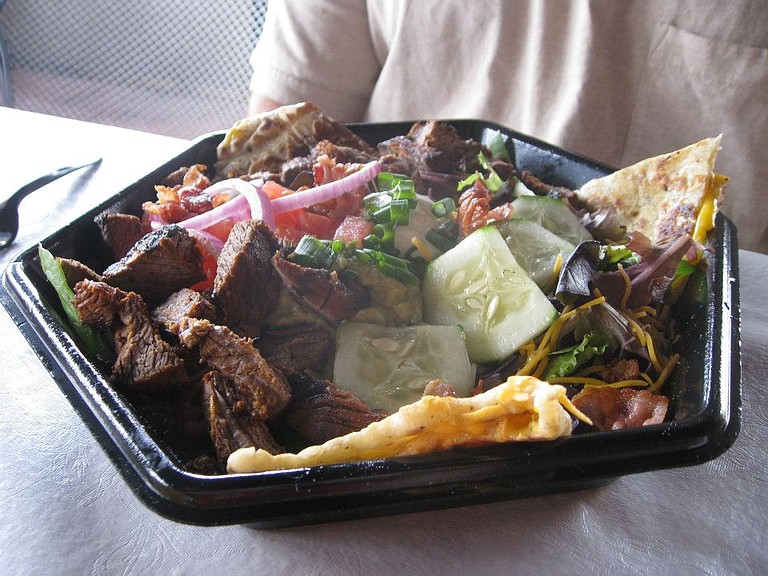 Tacos Like Buttah
There's a saying that in the Spanish language, "The sopa isn't soap, the ropa isn't rope and the butter's meant to kill ya." That's because sopa is soup, ropa means clothing and the word for butter is mantequilla. But apparently, the butter-based mantequilla sauce at Jaco's Tacos (318 South State St.; 601-405-0499) is to die for.
Jaco's proprietor, Allison Meyer, said the dipping sauce has been a big hit in the two and a half weeks the taqueria and tequila bar has been open. Jaco's held a grand opening last Friday that Meyer called a success despite heavy rains that poured down on the capital city.
Jaco's Tacos offers all made-from-scratch Tex-Mex cuisine, including the tortillas and chips as well as the homemade marinades used on the meats. The restaurant also has a variety of domestic beers and brews from Mexico and Honduras.
The daughter of government-employee parents who moved the family all over the world, Meyer runs Jaco's with her fiance, John Bell, a Jackson native whom she met while working in Utah. Visit jacostacos.com for more information.
Capitol Campaign
If you want to fly to the nation's capital from Jackson, you'd better speak up. On March 2, Delta Airlines discontinued nonstop service to Washington Reagan Airport in D.C., and the federal Department of Transportation let U.S. Airways operate the route temporarily.
Because the DOT could issue a final decision on the route within 90 days, the Greater Jackson Chamber Partnership urges local citizens to write letters of support for keeping the route. People wanting to weigh in on the matter should send letters to chamber Chief Executive Officer Duane O'Neill at [e-mail missing] by Thursday, March 15.
An Artful Goodbye
After six years, Jackson Street Gallery in Ridgeland is closing, owner Paula Jackson announced on the gallery's website.
"Knowing the individual artists has been such a joy and pleasure to me," Jackson wrote on the site. "To walk into this gallery every morning and be surrounded by the beauty of art has made such a difference in my life and career." Until the gallery closes March 31, art, furniture and displays will have special pricing. See jacksonstreetgallery.com for details.
Culture of Love
A clothing store specializing in hip, trendy styles for young women is now open at Northpark Mall (1200 E. County Line Road). The 12,000-square-foot Culture of Love opened Saturday and is located in the lower level near Center Court. The store sells clothing, accessories and shoes.