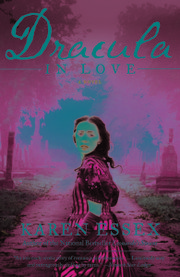 "There is nothing for you here, Mina. Come with me." The immortal count beckons the unhappily married Mina Murray Harker in "Dracula in Love" by Karen Essex (Anchor Books, 2010, $14.95). Vampire-enthusiasts who have longed for a story of Dracula from Mina's perspective, rejoice. Essex delivers an absorbing and sensual narrative, as told by Bram Stoker's heroine.
In this book, Mina's story starkly contrasts with Stoker's original tale of a demonic, blood-drinking entity, devoid of mercy and human emotion. Mina's words paint a decidedly human picture of the immortal count, frustrated by enduring centuries of watching his eternally evasive soulmate repeat the cycles of birth and death that he himself has transcended.
The reader will find a dutiful bride trapped in an unsatisfying union with weak-willed and prudish Jonathan Harker, grappling against her longing for the enigmatic immortal who haunts her. The count incites a desire in Mina to shed the dull mantle of mortality and its accompanying drudgery, to transcend the mediocrity that surrounds her in exchange for a place in the realm of a more ethereal dimension.
Essex takes many liberties with her portrayal of Stoker's original characters. The result is a richly woven tapestry of scenes that underscore the plight of women in Victorian society. "Dracula in Love" is both a supernatural tale of suspense and a searing indictment of the misogyny that dominated the treatment of women during that era. Essex casts Dracula not as a treacherous defiler, but as the hero in situations where Mina faces imminent harm. He is the loving presence who accepts Mina unconditionally, even as the mortal men in her life turn on her at the slightest hint that she may not be the chaste, meek and obedient creature society demands.
Sadly, outrage at a woman's normal sexual urges was prominent in Victorian times. Women who pursued an education, exhibited sexual desires or remained unmarried risked institutionalization. Under these conditions, women did well to suppress their more sensual and intellectual urges.
I perceived the real monsters to be the mortal men in Mina's life. In the introduction, Essex describes Stoker's original story as "... falsified documents, based on the lies of a cabal of murderers desperate to conceal their dark deeds."
Essex elegantly chronicles the heroine's journey from helplessness to empowerment. Every unappreciated and underestimated woman can identify with Mina. Mina's warning to us, and the central theme of this wondrous read, is this: "The truth is, we must fear monsters less and be warier of our own kind."
"Dracula in Love" is a sublime read, worth the evening you'll spend getting nothing else done.